Online Teaching Application & Software | Apps For Online Teaching
Online Teaching App – Teach Online , Record Lecture & Sell To Students

Online Teaching App
With pesofts teaching software you can enabled online classes with app and software and you can teach your unlimited students at same time online.
Youtube Enabled Software
Coaching, school & colleges can setup their account with their youtube channel once you done you can go live using our system generated API and you can record lecture.
Online Classes Zoom App
Teaching software added a features where you can integrate your zoom account and record lecture and sell recorded lectures to the students.
Payment Gateway Enabled
In pesofts online classes app the amount will reflect in your bank which students pay for buying any course through the website or app.
Enrich Various Options Available For An Online Teaching Software?
Instant Start
An app for online teaching gives the teachers an opportunity to immediately start teaching everyone who has subscribed for online coaching without the need of any coding.
Live Teaching
With pesoft's app, you can teach face to face to the students in any manner you want. The fact that it is self-paced gives you the liberty to do adopt any methodology for teaching.
Analyze Test & IQ
You would never be in a dilemma thinking as to whether your students have understood whatever you've taught or not. You will always have the option of creating and conducting pre and post class tests.
Accept Payments Easily
All the subscribers subscribing to this app have the option of paying through credit, debit cards as well as net banking. There is also a feature of money wallets available in which the subscribers can add money.
Manage Unlimited Student
There is no limitation on a number of students you can connect unlimited students in a single online classroom, App will work ziffy without facing any bugs or any other issue.
Control Your Operations
The users can manage the training lessons, control the exchange of content between the parties and can also offer certification or reward the high performers.
Real Live Chatting
The online classes app have feature for live chatting with students if they have any dout they can chat easily any time in live and schedule recorded lectures.
No One Capture Screenshot
The best part about this is that in this app no one can take screen shot when they trying to learn and you can set students data access.
Online teaching in this digital era has replaced the traditional methodology of education. For the success of this new form of education, human beings have developed various coaching class management software for giving online lectures like: Online teaching app is one of them. The advent of this has made the glue it together days of sharing videos on YouTube as well as making presentations on a particular subject to be uploaded on the internet a thing of the past.
Not only this but this online teaching app has also allowed software developers of online classes to expand their market. To stand apart from their competitors, these software providers offer this teaching application with exclusive features.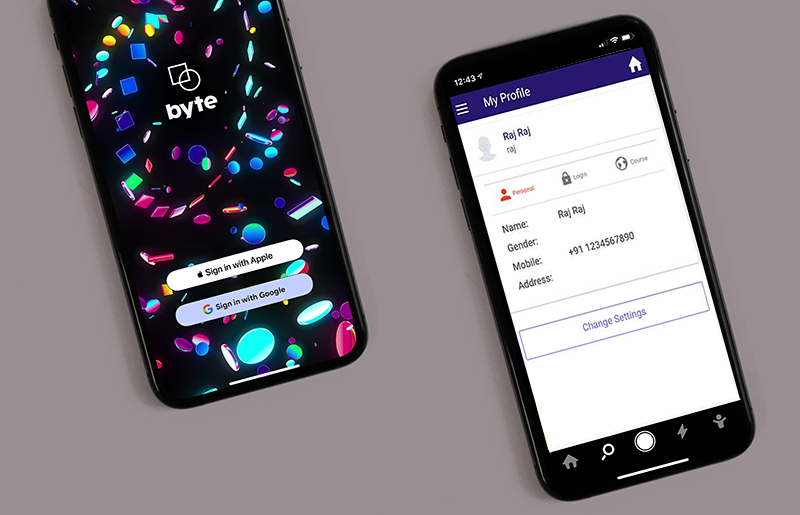 All of this leaves the educators in a state of dilemma as well as affects their ability to make an intelligent purchase decision. A good decision is not base on numbers but knowledge. That is the reason as to why you need to be aware of the features that an online app for coaching should mandatorily have. For this purpose, this article deals with all the intricacies that educators should know before buying this teaching app.
Online Teaching App: Apps For Online Teaching
Online Teaching App help educators for giving teaching online classes in easy way with all types of formats ranging from life to blended to self-paced. It is a cloud-based app where the users can offer online courses that involve peer to peer interaction as well as live in practice sessions. With this, they also get an opportunity to engage the students in the online learning material.
This app allows the teachers to create an online tutoring platform on hands where the students can enrol, and they register for the specific courses. Learning takes place proficiently after the classroom is set.
Whats Features Should Have In Coaching Application.
1. Supportive Of Various Types Of Content
Teaching of coaching to various modes and methodology helps the teachers-teaching through an online app and web-based software to maintain the interest of the learners. Thus to achieve this, the app should be supportive of any kind of content. It should support videos in any format ranging from mp4 to documents in the form of Microsoft presentations to blogs. If the teachers want to, they should have the option of uploading quizzes to any lesson if they want to.
2. Lets The Users Upload Videos From Other Platforms
To explain any concept online; sometimes, it gets mandatory for the instructors to refer to certain videos from YouTube. Thus this need makes it crucial for the application to have the feature of embedded content where the ones teaching can upload eLearning lessons with the help of the authoring tool.
3. Organize Content In A Better Form
An online application that is sorted makes the life of the users as well as instructors easy. Thus another mandatory feature of teaching(coaching) app is that it should allow the educators to group the lessons in various sections for organising content in a better form.
4. Real-Time Messaging
The app that makes online coaching possible, it should have the feature of a real-time messaging where the users can directly approach the educators in case of any doubt. With this, the students never feel isolated and distant from their teachers.
5. Restricts Viewing Of Lectures To Strangers
For those who teach online often have the fear that their lessons are share with others without any consideration. Thus to prevent this, a teaching app should provide security. It should be in a manner that allows educators to create encrypted courses. Security viewing of courses possible to only the ones who have subscribed to it.
6. Free Or Paid Courses
In an online coaching app, the users should have the option of choosing courses as per their affordability. Thus the app should give an option to the teachers to offer some lessons that are completely free and the premium ones that can only be view after paying the requisite fees. Further, before subscribing for the lessons, they should have an opportunity to see some se course content before they sign up.
7. Content Library
To provide the students with an extraordinary experience, the educators with the help of a content library feature can do this. This feature enables the instructor to directly sync the entire course content from dropbox to the app.
8. Streaming In An Adaptive Form
Studying with the aid of an online app can be a hindrance if the internet works at a low speed. Thus the app should have the feature of adaptive streaming where the videos in case of no internet or slow internet are transcoded into multiple formats to avoid any kind of hring.
Choosing for an online app for coaching future is often considered as a teacher's natural choice. Still, the advancements in education technology have also enabled the professionals whose job is to build their teaching business to resort to this. To use this app in its full sense, this software must have some essential features. Some of them that can be used while providing the best online coaching have been dealt with within this article.
Sell Your Video Courses In A Single Click WIth Application
With an educator app, the tutor can also sell their notes of whatever they've taught during live lectures at some consideration. This is highly profitable because the students in online classes often do not make notes due to consistent sessions and require notes when they have to prepare for the tests. Thus the educators for this purpose can sell their notes at affordable prices.
The huge response, as well as the willingness of the students from around the world to study online, has made it mandatory for many coaches to resort to using the best app that has all the exclusive features. Even if you are a homeschooler or a teacher who is looking to expand online coaching horizons for creating an alternative income stream, then resorting to this app is the best for you. Wondering as to from where would you get this sort of app? Don't worry. Pesofts is at your rescue as it provides an online app that has all the necessary features at affordable prices.
FAQ For Online Coaching Application