Online Proctoring Software System For Conducting Cheat Free Exams
Feature in Our Online Proctoring Software Has

Fair Cheat Free Tests
Fair test Students are assured that the value of their education will be maintained by avoiding and discouraging academic dishonesty, and institutions are safeguarded in their reputation.
Removes institutions burden
Proctoring online offers more advantages than proctoring in person. It can deal with the need for live proctors by combining AI proctoring and live to proctor, which can simplify scheduling and lower costs.
Level up Institute
It is challenging for universities and colleges to grow their educational offerings without compromising their commitment to academic integrity Proctoring will fixed it.
Payment Gateway Enabled
Our proctoring software has inbuild payment gateway the amount will reflect in your bank which students pay for buying any course through the website or app.
Able to Detect Phones
When students attempt to access test bank content on their phones or other devices during the exam, AI algorithms can detect this attempt.
Smart Speech Detection
It is more sophisticated than the primary audio detection method stated before since it searches for particular words or phrases like "Alexa," "OK Google," or "Hey Siri."
Integrity of Test Questions
A device that looks across the internet to find questions that have been leaked. Instructors can take action to ensure the integrity of their tests.
No One Capture Screenshot
The best part about this is that in this app no one can take screen-shot on mobile & web when they trying to learn and you can set students data access.
An online monitoring tool is known as proctoring software monitors test takers during distant online tests. It assists in preventing malpractice and guarantees that organizations and institutions responsible for administering tests can adequately evaluate the test-taker's performance.
The majority of unlawful actions are discovered by the AI proctoring exam software. It examines physical and digital behavior, such as turning away from the screen, conversing with others, and engaging in other activities (screen sharing activity, secondary gadgets).
Utilizing proctoring exam software has made taking online tests much easier. We employ proctoring software in our teaching platform to ensure that our teachers can handle difficulties.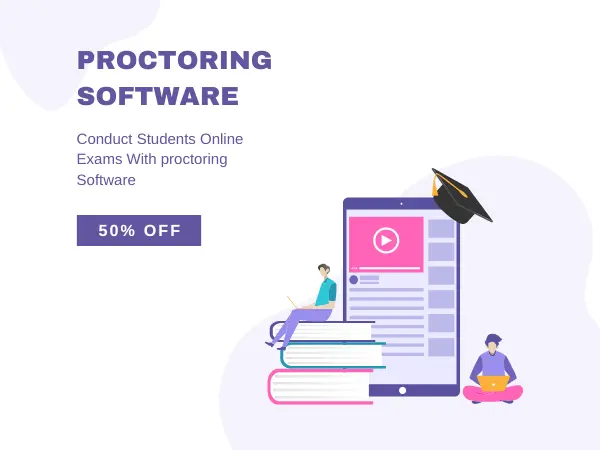 Can different exam formats be proctored online?
Almost any exam type is suitable for online proctoring. Whether it's an online test with common question types (multiple choice and true/false), in-person exams in the classroom, or even genuine assessments where a student is executing a task like a live presentation or demonstration, many different estimates can be used.
The online proctoring tool should be seamlessly integrated with the LMS. Students and instructors will find things much simpler with a direct LMS integration because it speeds up deployment, eliminates the need for additional logins and passwords, and establishes a comfortable environment for both parties.
Who requires proctoring software?
Online proctoring software will be helpful for colleges and schools, not just for written exams. Currently, products are available that let you efficiently keep an eye on students' behavior throughout verbal tests and other testing.
The benefit of proctoring is that current AI algorithms can monitor students' actions, gauge their level of participation during assessments and throughout the entire learning process, and then alter communication accordingly. Additionally, businesses that regularly conduct hiring, testing, and professional development for their employees will benefit from an online proctoring service.
Why should you choose Pesofts for online proctoring software?
Pesofts, an affordable online teaching platform, uses live proctors and AI software to make online proctoring quick, easy, and human.
With online exam proctoring supervised by AI and verified by humans, Pesofts promotes academic integrity. Our test proctoring software monitors each student's exam session and notifies a live test proctor if it notices any possible issues. As a result, our proctors can attend the exam session and assist the student in getting back on track.
Online proctoring is a resource for students, staff, and institutions rather than just a tool to catch cheaters. The main objective of proctored testing features is to create a fair testing environment to enhance student outcomes.
We make it even easier by providing proctoring exam software and our teaching platform. So, what is waiting for you from taking this right away and being stress-free from taking tests online? Call us right away!