Value of a Heuristic Method of Teaching in Modern Learning

The Heuristic Method of Teaching is an approach where the students act as independent learners and the teacher just guides them. The teacher gives open-ended questions and encourages students to participate and think about the answers. They guide them through the result. Using the heuristic teaching method, students can inculcate problem-solving skills and become self-dependent. Psychologically, this method is very healthy as it focuses on learning by doing.
Online exam software is a technology that is used to conduct exams through the Internet. This eliminates the need for test-takers to physically be present at the place of examination. Online exams can be used to support and enhance the heuristic teaching method. The software can be used to create open-ended questions and the student's knowledge can be tested through these Online assessments. 
This blog deals with explaining the ideology behind the heuristic method of teaching and how integrating online exam software with this method makes it efficient and competitive. 
Understanding the Heuristic Method of Teaching
Principles of Heuristic Method of Teaching 
The Principle of Activity 
The method focuses on learning by doing. Self-activity is the main component of this method. Students learn by exploring things on their own and are guided by the teachers. 
The Principle of Laws of Learning
The problems given to the learner should be according to their age and capabilities. This is in reference to the law of readiness. Students work with the law of cause and effect as they learn through the consequences of their activities. 
The Principle of Logical Thinking
Heuristic learning combines the use of inductive and deductive learning. This way students learn the concepts through various examples, experiments, and patterns. 
The Principle of Purposeful Experience
The essence of this method is self-experience and purposeful experience. Students gain knowledge by deeply understanding what they are doing. They develop problem-solving and critical thinking skills. 
Benefits of Heuristic Method of Teaching-
It helps in developing self-confidence and self-dependence in the learners. 

It results in the overall development of the students as this methodology focuses on cognitive and affective learning. 

It strengthens the relationship between teachers and students. 

 It develops critical thinking skills as the students explore their surroundings to find solutions. 

This method uses mental shortcuts that allow students to make decisions with limited information. 

It enhances scientific thinking skills. 

It develops the creativity of the students as they are expected to solve problems creatively. 

It encourages students to become independent learners which is necessary in today's fast-moving and rapidly changing environment. 
The traditional rote learning method involves learning by repetition. The idea behind this is to repeat something over and over again so that one remembers it. It is very different from the heuristic method of learning where one learns by using problem-solving and critical-thinking skills.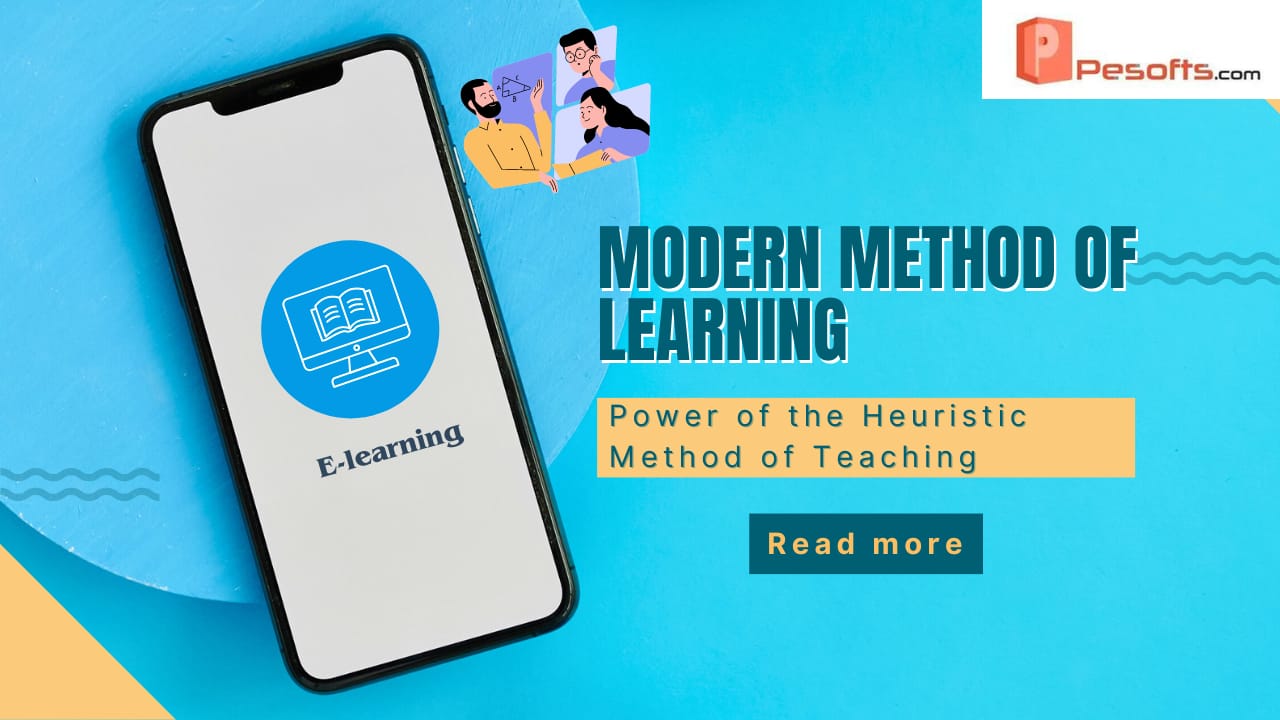 The Role of Technology in Education
The concept of online examination software is becoming popular in today's fast-moving era. People are trying to make education more accessible so that everyone gets the same opportunities. Online exams make it possible to judge the knowledge of test-takers without any boundaries. Pesofts online exam software is India's best LMS software provider. Our software is easy to use and intuitive.
Universities, coaching centers, and corporates can conveniently make custom exams using our software. Features like custom test limits, randomization of questions, data security, and 24×7 technical support make Pesofts a convenient choice for everyone. Created by our talented and hard-working team, our software can be used for business, training tests, and e-learning.  
There has been a rise in modern teaching methods. These methods are substantial and interactive, therefore they help students develop important life skills. Technology supports these modern methods by making education accessible. It has made education engaging through the introduction of virtual reality and gamification features. Additionally, education has become personalized as each student can get feedback and support that matches their learning style. 
Advantages of Integrating the Heuristic Method with Online Exam Software
Personalized Learning Experience 
Online exam software is integrated with machine learning and artificial intelligence which makes it possible for students to get tailor-made instructions according to their needs. Not only this, students also get personalized resources and feedback that matches their pace and style. 
Encouraging Critical Thinking and Problem-Solving
The heuristic method encourages students to learn new concepts and ideas. Online exam software has gamification features through which creative questions can be made to test the knowledge and will help to develop critical thinking and problem-solving skills. 
Real-time Feedback and Performance Analysis
Online exam software gives the advantage of quick evaluation of exams. The software does a deep analysis of the performance of every individual and provides real-time feedback. 
Fostering Independent Learning and self-motivation 
The heuristic method fosters independent learning by encouraging students to learn new concepts. As the teachers just act as guides and the students themself have to think of the answers, this increases their motivation level. Through online exam software, the students can be tested anytime and systematically evaluated. 
Integrating the Heuristic Method with Online Exam Software makes the learning experience smoother for students. Therefore, choosing the right software plays a very crucial role in the journey. Pesofts promises seamless integration with all the features you would need. Give us a call to book your free trial! 
Tips for Teachers and Institutions
How to effectively implement a heuristic teaching method?
To effectively implement a heuristic teaching method, teachers can curate activities and assignments that require experimentation and exploration. The goal is to ensure the active participation of the learners. Additionally, hands-on activities, group discussions, and open-ended questions can be included to keep students engaged. 
Teachers as well as the students should closely monitor the progress by paying attention to details. They should be aware of any changes taking place so that they can identify any areas where improvement is needed. 
Teachers should record the progress and outcomes of the activities and assignments that they give to the students. They should make notes and diagrams to record the progress so that this data can be later used to improve the methodology. 
How to overcome the challenges that the students might face? 
To overcome the challenges, it is necessary to first understand the needs of the students. Teachers should have a fair knowledge of the interests and backgrounds of every student. Secondly, the lesson plans should have room for flexibility and exploration. They should be tailored according to the student feedback. Thirdly, the teachers themselves should continuously assess their teaching styles and how effective it is. They should stay aware of the latest trends in education and learn new techniques. Lastly, teachers should develop a supportive environment where students feel comfortable. They should not hesitate to ask their doubts. 
Future of Education: Heuristic Learning and Technology
The heuristic method is an advanced and scientific method that is student-centric. Integrating heuristic learning with technology makes the learning process effective and accessible to a larger population. 
Artificial intelligence and machine learning have made heuristic learning personalized for students as it can identify learning patterns and analyze student behavior. This ensures that the needs of every student are taken care of so they understand better. Heuristic learning is also aided by the real-time feedback that is provided as teachers can adjust their pedagogy accordingly. Gamification has also aided heuristic learning as students across the world can experience the unique assignments and experiments that are created to widen their thinking horizons. 
The integration of heuristics and technology has changed the landscape of education. Still, it is necessary to strike a balance between human intervention and the use of technology. Technology should be used as a tool to aid education but it should not take over teachers. Technology is great to automate managerial tasks but the human touch should always be present in education. 
Conclusion
The heuristic method of teaching is a learner-focused approach that aims at developing critical thinking, creativity, and problem-solving skills. This method aims at encouraging students to take responsibility and become independent learners. Combining the heuristic method with online exam software increases the accessibility of this method to a larger population. The students get a personalized learning experience according to their interests and needs. The software provides a detailed analysis of student performance which is useful in judging if the implementation of the method is proper. 
Trying innovative teaching practices is a great way to cater to the needs of students who come from diverse backgrounds and have different learning styles. Innovative educators create a long-lasting impact on the lives of their students. They are curious and also foster curiosity in their students. Making even small changes in your teaching style can create a positive impact.
The landscape of education is dynamic and keeps evolving. To keep pace with the advancements, one should embrace chances adopt a flexible mind, and be committed to learning new things.
Frequently Asked Questions
Question – What is a Heuristic Method of Teaching?
Ans- Heuristic Method of Teaching is an approach that focuses on problem-solving and experience-based learning. Here the teacher performs the role of more than just an instructor and encourages students to learn ideas, concepts, and problems. 
Question – What is an example of a heuristic method of teaching?
Ans- Heuristic method of teaching includes case studies, project-based learning, simulations, problem-based learning, and a lot more. 
Manjeet Mehta CEO @Pesofts
Manjeet Mehta is a professional writer and also the CEO @Pesofts. He passed out from IIT Roorkee in 2013 and started their own business, thinking of the growing education sector with the help of technology. You can check out LinkedIn and follow him here LinkedIn