7 Key Challenges To Manage Exams and How to Address Them

Technological advancements in the form of online examination software besides its benefits also provide challenges. The inclusion of some critical steps makes it difficult for users to manage it. Most of the people are unaware of it because this is a new system.
Are you also facing problems while managing online exam software? Continue reading. Today's article, however, discusses the challenges to the online exam. It further deals with ways to manage these problems.
Before proceeding further let us understand the meaning of the online examination software that is the root cause of these problems. An online exam software enables the assessment holding bodies to hold the examination through a computer network.
CHALLENGES TO MANAGE ONLINE EXAM
Using secure technologies and best practices is the solution to the below-mentioned Challenges.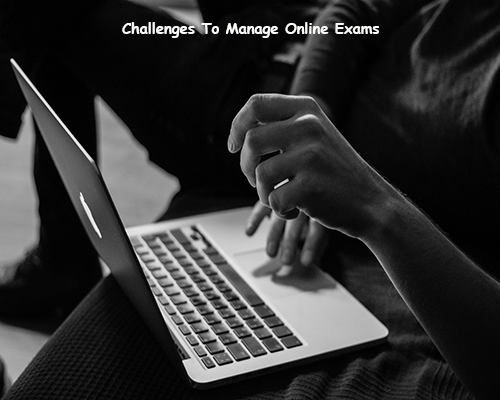 You can also learn here about Tips For Students Before Taking An Online Exam
1. Internet Connectivity
The Internet connection can often be a challenge in the path of smooth flow in the execution of concurrent online exam. Most of the rural and remote areas are still not well connected with the internet.
Online examination software offered by Pesofts has a feature that enables the exam holding bodies to hold reviews in an offline/intranet environment. This characteristic relieves the assessment conducting bodies of the requirement of internet connectivity or speed.
2.Question Bank Preparation
Question banks play a crucial role to determine the quality of an online assessment. A holding exam agency should necessarily maintain the level of questions papers. Our experts at Pesofts frame questions for you to your computer-based test successfully through online examination software.
3. Communication with Exam Candidates
Correspondence with candidates of computer-based tests is necessary to conduct the exam seamlessly. An online examination software offered by pesofts with its 365*7 support provides cutting edge solutions to the students for their doubts as well as their queries. Its integrated SMS, as well as email functionality, remind the exam takers to get a reminder for about everything.
4. Security
Security is one of the most critical challenges during the process of a computer-based test. Following the proper authentication and authorization process prevents malpractices. It also ensures that the right candidate appears for the assessment. An online examination software audits the entire assessment process and keeps the identity leaks as well as security lapses at bay.
To sum up all, a useful online examination software having advanced features enables any exam holding agency to conduct computer-based exams flexibly.
Want to contact us Click here