How Remote Proctoring Has Upgraded eLearning Industry

Transformation of education in the digital age has, without any doubt, upgraded the eLearning industry by making it the future of next-generation teaching-learning activities. But being in its formative stages, the online learning industry is trying hard to establish itself as a valid and credible system of imparting quality learning.
App for online teaching has although helped in establishing an online presence and delivering live lectures globally. However, limitations associated with unproctored online tests gave enough scope for unfair malpractices which has now been taken care of by online proctoring platforms.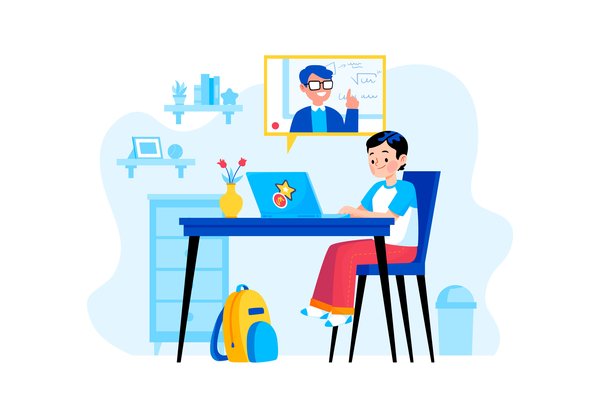 Online proctoring platforms have changed the teaching methodology of schools, colleges or coaching institutes, but even some of the most renowned certification bodies have resorted to this platform. The integration of remote proctoring software with online assessment software has proven advantageous for the eLearning industry for the better.
Let us understand these advantages in detail with the help of this article.
Online Remote Proctoring: A Path Towards Upgrading The Elearning Industry:-
Improves The Fairness And Transparency Of The Examination System
The traditional assessment system was plagued by being prone to use unfair means that provided no accountability or transparency to the exam conducting bodies. This system often resulted in compromising the best interest of the worthy candidates.
Remote proctoring platforms have dismissed these issues because of its high accuracy in invigilating the candidates. It has also been successful in providing transparency for providing quicker results and all statistics related to exams. While students give their exam, everything gets recorded. Availability of online examination trails provides evidence which makes it easy for the examination bodies to be accounted for quickly.
Gives Validity To Online Programs
Students during coronavirus have undertaken various educational and professional certification courses to enhance their CV's. Although these courses look good at first, students have to face discomforting questions regarding their recognition and accreditation. While recruiting, companies only consider these online programs to recognise and conduct a fair and secure accredited exam before awarding certificates to students.
Even the New UGC Regulations In India while online accrediting courses consider the examination system of online courses and require qualified faculty for being appointed as a proctor. Thus, with an online proctoring platform, the AI-enabled proctoring caters to a qualified proctor's requirement and ensures fairness in the examination, thereby enhancing the validity of an online program and valuable time for students.
Cost Reduction
Any exam conducting body testing students every year has to spend a considerable amount of expenditure on arranging infrastructure and logistics. An online proctoring platform available at affordable prices thus reduces this load. Although the initial investment of switching over to the online mode of assessment from the traditional form is higher, it is cost-effective in the long run.
Provides Online Programs with An Ideal Scenario
In today's fast-moving world, an online course that consists of offline proctoring exams take away the openness and flexibility associated with it. However, with an online remote proctoring platform, online programs can give the students the much-required flexibility. Right from enrollment and admission to the examination and procuring a downloadable digitally verified certificate, online proctoring helps the students enter into a secure examination environment.
Reduces Probability Of Error
Integration of latest technology such as AI with an online proctoring platform offers zero chances of error and 100 per cent accuracy for monitoring, detecting distractions and other examination malpractices. The platform of assessment thus becomes more reliable than humans for storing and retrieving data.
The Last Word
As a result of this current global health crisis, India has witnessed an increasing surge in online courses. Although shown high acceptability among the learners, they lacked recognition due to examination malpractices associated with these courses. However, the advent of online proctoring platforms provided by pesofts at affordable online exam software prices has solved these programs' major bottleneck. A solution to conduct secure exams has indirectly boosted the eLearning industry and made the future of online learning bright.
Frequently Asked Questions Associated With Online Remote Proctoring
Given below are some of the FAQ's that address the common queries of all the users of online remote proctored exam meaning, remote exam proctoring software as far as regarding the usage of online remote proctoring software.
Question 1. Is cheating possible in an online proctored exam?
Answer 1. Pesofts online remote proctoring services negate the possibility of cheating in an online proctored exam. Our services offer stringent anti-cheating measures that make it impossible for the assesses to indulge in malicious behaviour.
Question 2. What is the meaning of remote proctored internet-based test?
Answer 2. For initiating a remote proctoring test, a remote proctoring internet-based test requires a primary internet connection, a webcam, and a microphone supported by a computer.
Question 3. What is the meaning of remote proctored exam?
Answer 3. In a remote proctored exam, students take their exam from a remote location provided that they have a webcam supported by computer and a functional internet connection. Integration of online remote proctoring with Pesofts eliminates cheating.
Question 4. What is the meaning of remotely proctored online exam?
Answer 4. In a remotely proctored online exam, test takers and the ones hosting tests can be from any part of the world. Remotely proctored enables a proctor to employ advanced anti-cheating technology to negate unwarranted activities in a remote proctored test/ exam, allowing test takers to take online proctored exams at home.