Impact Of Virtual Schooling On Students And Teachers

Although in India, lower cases of CoVID had given the State Governments the strength to decide on passing orders for the reopening of schools and other educational institutions. But red alert due to floods in South India and excessive air pollution in North India (basically NCR and states surrounding NCR) has again resulted in the closure of schools until further orders.
As a result of this, virtual schooling has again resumed, and the hovering clouds of uncertainty until the betterment of the entire situation have been overshadowed again.
Learn More About The Pricing Of Pesofts Proctoring Software
Today's article deals with the impact of virtual schooling on Students and Teachers.
Before dealing with the impact, let's understand the term virtual schooling.
Virtual Schooling
In this methodology of teaching adopted by an educational institution, the teachers take lectures and classes online with online classroom software. In this form, instead of using a brick and mortar structure consisting of tables, chairs, blackboards, etc., and inviting a large congregation of teachers and students, education can be imparted by making a home, bedroom, garden as a classroom. Using online classroom software enables professors to teach the students face-to-face live in exactly the same manner they used to teach before the advent of a pandemic.
Softwares That Aid In Success Of Virtual Schooling
Virtual schooling would be a bizarre concept without the invention of software for online classrooms and  Online exam software for school. Let's understand them a bit too:
Exam Software For School
Assessing students is an imperative part of education, and all of this had come to a halt due to CoVID until exam software for school became a part of the concept of online education.
Online exam software for schools by Pesofts is a fast and easy-to-use intuitive software that enables educational institutions to freely set time limits, randomize questions, and brand exams the way they want to. Developed by the hard-working, experienced, and talented team, exam software for school enables its users to create online tests that can be used globally for business, enterprise training tests, lead generation, online certification, and Elearning.
The schools can be assured of the fact that the students would not use unfair means since the proctor acts as an invigilator. Coupled with secured exams, the results are delivered in a detailed and comprehensive manner, enabling the schools to analyze the performance of every student.
Online Classroom Software
Online classroom software is the software that has made it possible for educational institutions to impart lectures online. With great features, the software acts as a boon. The audio and video get optimized automatically in case of slow connections, ensuring continuity in online classes irrespective of poor internet connections. To give the students the experience of a real classroom, teachers can easily rely on the online whiteboard feature to draw, highlight, and collaborate with students in real-time. Writing and spelling exercises are made easy with the real-time chat Group Classes as there is no limit to the number of students who can join the class in one go.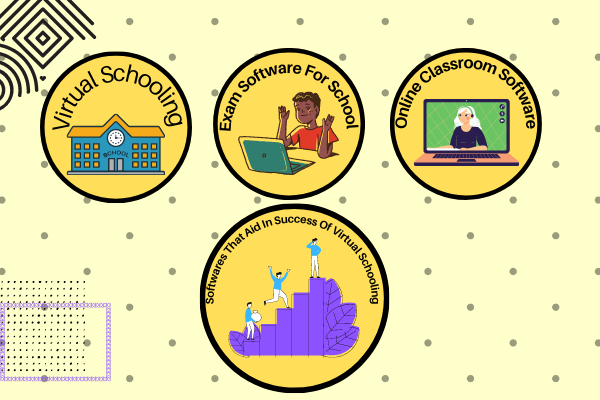 Impact Of Virtual Schooling On Students and Teachers
Thanks to virtual schooling, education is now not restricted in classrooms but has expanded in places where students and teachers feel comfortable.
Following are some of the advantages of virtual schooling that has only been possible because of exam software for school and online classroom software:
a) Diverse Ways Of Imparting Lectures
While teachers taught physically, their teaching methodology was only restricted to using textbooks and blackboards to explain any concept. However, virtual schooling through online classroom software has given the teachers multiple options to explain a concept. That's because the software gives the teachers access to screen share and play videos to ensure that students understand a concept clearly. Along with this, these new teaching methodologies keep the students involved and show interest. Thereby acts beneficial for both the teachers and students.
Time limits do not bind teachers for giving lectures to students, and flexibility of the timetable makes it easy for them to stay focused on their studies. This resulted in technology adding to the visual experience by using animations as a model for interacting with the students and ensuring effective learning and communication.
b) Students Can Learn Anywhere And Anytime
In traditional virtual classrooms software, students were often under a mandate to make notebooks and note down whatever the teacher asked them to write. However, virtual schooling has eliminated this kind of mandate since teachers now prefer sending printed notes or PPT's in a PDF format which can be accessed by the students anywhere and anytime without the need to carry notes wherever they go.
c) Saves Large Amount Of Time And Money Spent In Commuting
The traditional teaching methodology was time-consuming and costly for students, teachers, and educational institutions. However, virtual schooling has helped save large amounts of time and money since online classes do not require teachers and students to assemble at a particular place. Lessons can be imparted from any place where the teachers feel comfortable, and even students can take the classes in the comfort of their homes.
d) Advanced Ways Of Assessing Students Online
Virtual schooling enables teachers to use exam software for school assessing students by using various ways. They are restricted to assessing students by asking them to attempt questions, and they can also use quizzes to test their knowledge and understanding of a particular concept. The advanced ways of assessing students online not only makes exam easy for teachers but also for students.
e) Teachers And Students Become Tech Savvy
Before the unprecedented advent of CoVID, teachers, and students never really got an opportunity to access devices while teaching and learning. However, the shift to online learning has imposed a mandate on the teachers to use softwares for taking online classes, assessing. This mandate has acted as a boon for them as this has made the students as well as teachers tech-savvy.
One thing that is imperative to keep in mind for this is that availing this benefit is only possible when the software through which lessons are imparted and students are assessed is easy to use.
f) Positive Impact On Mental Health
Virtual schooling during the pandemic had gained immense popularity among working professionals and students who pursued higher education. That's because the category of students belonging to online learning found it beneficial to involve them in full employment, internships, and spending time with their families. Teachers, on the other hand, felt less burdened due to exam software for schools reducing their administrative burden. All of this played a crucial role in impacting their mental health positively.
g) Incorporated Self Discipline and Motivation Amongst Students
Virtual schooling calls for greater motivation and self-discipline than traditional classroom-based learning. Some more instructors and peers can easily hold the students accountable for their acts and assignments in a traditional classroom. On the other hand, in virtual schooling, students aim to set their goals, track their performance, and meet deadlines. This not only helps them to incorporate self-discipline but also grooms them personally and professionally.
h) Broadened Horizons For Children Belonging To Weaker Socio-Economic Communities
Virtual schooling has also played a crucial role in broadening the horizons for children from the weaker socio-economic communities who have limited access to learning resources. Online classrooms empower them to connect with a global network of learners. Along with exposing them to new perspectives, virtual schooling has also resulted in unlimited ideas.
Learn Factors To Consider Before Buying An Online Proctoring Software
The Last Word
Some believed that an unplanned and instant move to online learning by resorting to virtual schooling with no training, insufficient bandwidth, and little preparation would result in poor user experience and result in disruption of a systematic system of education. But due to sheer surprise, with the help of exam software for school and online classroom software, the impact of virtual schooling on students and teachers has been a positive one. It has also resulted in the emergence of a new hybrid model of education.