Online Proctoring software – Simple Solution For Secure Class


Introducing Pesofts Online Proctoring AI-Powered Software Known as the most flexible remote proctoring platform powered with AI in the industry with happy users spread across education and professional markets globally. Pesofts standalone offers automated online proctoring exam software consisting of a hybrid human proctor coupled with a combination of AI software.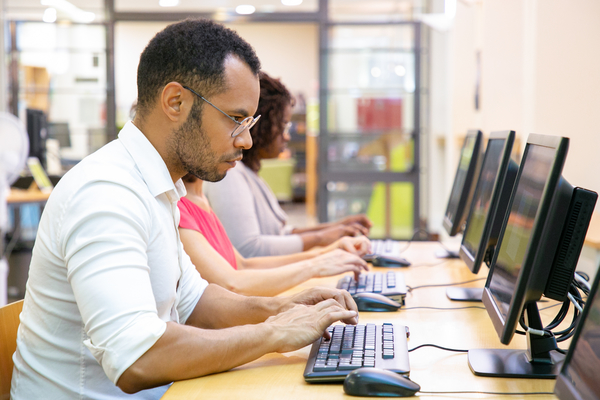 HOW PESOFTS DIFFER FOR ONLINE EXAM PROCTORING FROM OTHER?
Online Exam Proctoring Software for live proctoring is a comprehensive platform which is designed by our pesofts developers by combining the power of AI-enabled automated proctoring as well as active human monitoring and intervention. This all in one solution consists of all the features of an online exam software and enables you to deter cheating. You also get the opportunity of administering secure end to end exams anytime, anywhere.
It is a robust proctoring technology which is highly scalable and the cost-efficient exam software pricing coupled with a thorough proctor empanelment and monitoring process, sets it apart for its competitors.
With Pesofts Software For Online Proctoring You Experience Seamless Candidate And Admin Experience (User-Friendly) Pesofts platform consists of UIs which are easy to manage and navigate. You can post a quick introduction as well as a detailed walkthrough that adds great flexibility to the clients. They can access the platforms and also use their proctors.
Integration With Any Test Engine And Mobile App (Easily Fits Into Your Existing System):
Our online platform for proctoring is capable of being integrated with any app, website session as well as test engine that requires proctoring. Our software is available in the form of an app through which you can proctor candidates on all the web-based platforms for assessment. With our proctoring software, you can add proctoring on your mobile examination/assessment applications.
Robust Data Security (Secure Data With Our Internationally Complied Standards ):
We use methods like data encryption as well as secure data hosting by complying to international standards to ensure data security. 24*7 Support From Proctoring Experts (Ready To Help You When You Need The Most): Test takers get free technical support by our team of service and support. They have an exam facilitator hotline, and every admin has a dedicated account manager.
Budget-Friendly (Do Not Compromise On Your Budget):
Our wide range of exam software are available at prices that meet your budget and scale. You do not have to incur any overhead resources costs for administering the tests.
Accountable (Measure Security Not Just By Outcomes But Also Features):
Our commitment to industry accreditation and compliance inspires us to deliver monthly analytics reports. Users can watch test takers while they are completing exams in real-time. They also get to view test-taker satisfaction surveys.
Face Recognition For Avoiding Impersonation (Do Not Worry About Impersonation):
The face recognition feature gives you the required trust that the candidate who is taking the test is real. Our software quickly identifies the student's face and matches it with their detail. With our two-factor authentication process, users can avoid fraudulent activity by restricting test access.
Get Complete Access To Pesofts Platform For Online Remote Proctoring
Avail A Free Trial of our new age technology With A personalized demo of Pesoft's Platform. With our advanced live proctoring solution, you can conduct high stake exams as well as assessments securely using our state of the art proctoring solution by ensuring a seamless experience for candidates.
Frequently Asked Questions
Answer 1: A proctored exam means a digital assessment that uses the state of the art monitoring software to invigilate the test taker. It involves using a combination of audio as well as a video for avoiding any objectionable instances. In proctored exams, students can easily take their exams remotely even in their homes provided that the environment for taking exams is complacent.
Answer 2: At Pesofts, users can monitor proctored exams by :
Live online proctoring
Review and recorded proctoring
Advanced AI-powered automated proctoring
Answer 3: In online proctoring, users can conduct an assessment by using the state of the art monitoring software. The software uses audio, video and anti-cheating features to maintain the integrity of examination to ensure the credibility and authenticity.
Answer 4: By using online proctoring, universities can conduct all types of exams to make:
International education more accessible
Allow flexibility related to time
Favouring all students irrespective of their location
Universities can conduct exams on a safe browser with an extra safe online exam environment
Answer 5: For using the proctored exam, users first have to:
Step 1: Enter their details in the customizable fields.
Step 2: The candidate then clicks his picture
Step 3: The next step is verifying the ID proof
They should have a capable device that is supported by the software with a stable internet connection. The device should have a good webcam and a microphone.