Things Universities Should Keep In Mind Before Conducting Online Exams

Universities have seen a complete transformation in the mode of conducting student assessments in the new millennium. Though there was a thing about that old-fashioned style of the traditional examination method, there are certain things that universities should keep in mind before conducting online exams with the new technology evolved in the form of online exam software has become increasingly popular in recent years, offering a convenient and flexible way for students and professionals to demonstrate their knowledge and skills from anywhere in the world.
Due to CoVID's advent, the closure of schools at lightning speed had shaken the universities in assessing students and ensuring continuity of education. But online assessment software coupled with online classroom software aided them in travelling the road and facing the beast.
However, while they were successfully able to cope up with the changed circumstances, there were some things that the universities lacked in terms of adhering.
Things Universities Should Keep In Mind Before Conducting Online Exams
The common goal of assessment has always been to evaluate and improve students' learning by getting meaningful and well-constructed results that enable students to gear up for success. The challenge allows them to reflect, interact, and apply their knowledge to answer questions, solve problems, and communicate information.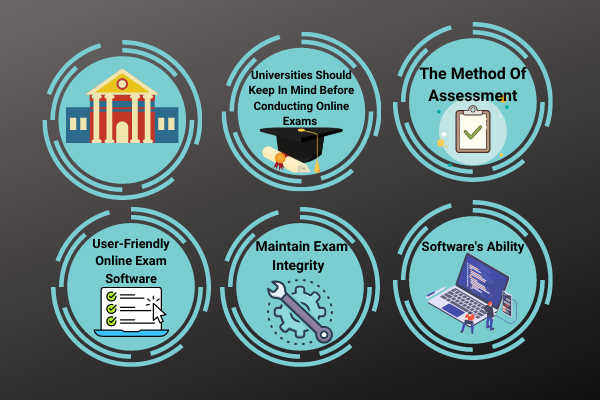 Today's article deals with the things that universities should keep in mind before conducting online exams
However, to enable students to continue reaping the benefits of assessment even during online studies, the universities should keep in mind the following things:
1. The Method Of Assessment
For assessing student's online, there can be a lot of methods that the universities can adopt, such as online quizzes, open-ended questions, MCQ's, online polls, etc. Therefore the first and foremost thing that universities should consider before conducting online exams is the methodology they wish to adopt to assess students. That's because online exam software, which is used to mark students online, can be tailored based on the method of assessment that educational institutions wish to adopt.
2. User-Friendly Online Exam Software
To ensure everyone's participation, educational institutions should look for user-friendly software. While universities prefer software for an online exams, they must look for software that enables everyone to participate in the exam process. Software for online examination with which teachers can coordinate with their co-workers for creating question papers, administration can easily track student's attendance, and students can conveniently take exams in the comfort of their homes without arranging a particular device should be preferred.
3. Software's Capability To Instill Trust Of Examination Agencies and Maintain Exam Integrity
The entire basis of an online assessment lies in students not resorting to means prohibited by the exam conducting agencies. Students cheating is something with regards to which every university expresses reservation. They fear that students always have elaborated strategies to cheat in an online exam without the invigilator knowing it.
Thus, before conducting online exams, universities should keep in mind that the software they're using for assessing students online should have the feature of proctoring. Students are always full of ideas for cheating in an online exam, but there should also be a thing from the university's end to deter them, which is fulfilled by online proctoring software. With these institutes imparting education, they are sure that answer sheets are devoid of any unfair practice and instil a sense of trust, integrity and credibility in the examinations conducted online.
Thus to avoid this, other employers of the company should always opt for software that has a user-friendly interface that is simple and clean. Cost should never come in the way of purchasing software for online recruitment. It should not matter that the software for recruitment that is easy to use is expensive compared to software with fancy features but complex. What should matter is the ease with which employers can recruit the best candidates from the pool of applicants.
4. Software's Ability To Publish Detailed Comprehensive Results
Considered one of the most critical aspects, universities should always opt for software that can publish detailed results in the blink of an eye before conducting online exams. It is beyond impossible for teachers to check numerous question papers online during the phase of this pandemic. Therefore whenever the educational institutes opt for software, they should always opt for that software that instantly publishes elaborated reports of the results and aids in easing the entire process of selecting the candidates.
The following advantages make this software the best:
(a) Smart Proctoring: With artificial intelligence-based cheating prevention, it becomes easy to invigilate any suspicious activity during an online exam.
(b) Live Exam Coverage: Universities can ensure live coverage of the exams. They can see details such as the number of candidates taking the tests and the number of candidates who have taken the test or dropped it.
(c) Ensure Smooth Exam Conduction: With our software for online exams, an enormous number of candidates can smoothly give exams concurrently, which proves to be a delight for the test-takers and the managers.
(d) Make Tests Yourself:The tutor or test mode enables the users to prepare to test themselves in the manner they want to by adding the questions per their requirements. By instilling best practices and the latest technology, Pesofts enables users to manage their online exams, such as entrance exams, recruitment exams, university exams, aptitude tests, or personality tests.
(e) Test Software Pattern Is The Same As Original Exam Pattern: Students giving practice tests do not have to worry about their final exams. Coaching institutes can create the same pattern followed in the actual exam.
(f) Responsive: Candidates can take the exam on any laptop, tablet, mobile(using mobile exam app too) or computer . They do not need to arrange for a particular device and thus give the exam without involving themselves in any hassle.
Frequently Asked Questions
Answer 1: In this mode of assessment, the universities can assess students at the comfort of their home, thereby dispensing them with their physical presence.
Answer 2: Online exams can be conducted efficiently with online exam software, which is fast, easy to use and intuitive. Versatile enough to be used by coaching institutions, universities and corporates, this software enables its users to start their online testing with the click of fingers at the comfort of their homes. With software for online examination, its users can freely set time limits, randomize questions, and brand exams the way the universities want to.
The software allows the examiner to create tests by including the type of questions that they want to range from MCQ's to complex scientific formulas and also set the time and day's or day at which the examination would go live concurrent, the time within which the students have to complete their test also students have the chance of visiting the question again or not
Answer 3: Developed by the hard-working, experienced as well as a talented team of engineers, Pesofts is the best online exam software to conduct the online exam as it enables its users to create online tests that can be used globally for business, and enterprise training tests, lead generation, online certification as well as Elearning.
The Last Word
Examination plays a crucial role in the life of students as well as educational institutes as while students give tests, they get clarity about whether they have understood the concept or not and for universities to promote students to the next class and ensure continuity in an academic session.