How Select Test Software For Traditional Recruitment Process



With various types of software available for recruitment, all of them claiming to be capable of transforming the entire hiring process from the pool of candidates, some factors should always be kept in mind while selecting online tests and Online assessments for the traditional recruitment process.
If you thinking of purchasing the perfect online recruitment software for your company ​​keeping the budget into consideration?. Let us get started by reading this article which talks about the factors that should be kept in mind while selecting online tests and assessments for the traditional recruitment process.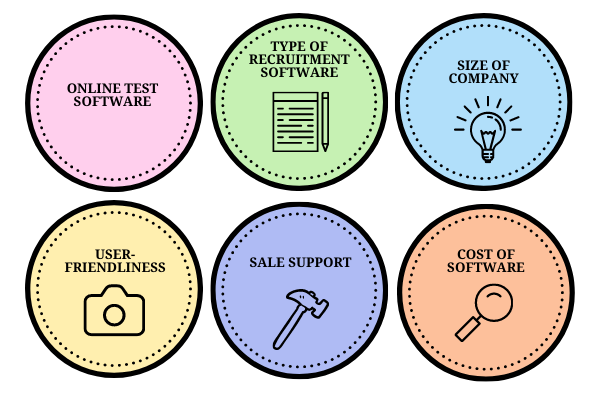 Factors To Keep In Mind While Selecting Online Test And Assessment For Traditional Recruitment Process
Listed below are some of the factors that every company could consider while purchasing a recruitment software that fits their hiring needs perfectly:
1. Type Of Recruitment Software
Depending upon the company's needs, the first thing that any corporation should look into while purchasing recruitment software is the type of software they are looking forward to. For different stages of hiring, there are four main types of software that are available in the market. They are:
(a). Sourcing tools that aid in sourcing and finding relevant active and passive candidates.
(b). The recruitment marketing platforms that aid in the creation of a beautiful career page that companies can present to the employer brand for attracting top talent.
(c). Candidate relationship management systems that help in personalizing, automating, and saving time while employers communicate with current, past, and potential candidates.
(d). Applicant tracking systems aid in organizing the entire process of hiring according to the receipt of applications.
Every software discussed above has different features and benefits. Therefore while purchasing recruitment software, companies should keep their needs and the number of hiring stages they wish to keep. Furthermore, instead of opting for software for every step of recruitment, preference should be given to the software that integrates all the above requirements in a single software. Pesofts offers such a kind of recruitment software that is useful in all hiring stages.
2. Size Of Company
Therefore another factor that corporations can consider while opting for software for recruitment is the company size. The size of every company is different. So will be its hiring needs. Because of the number of people in the team, job positions play a crucial role in determining the software requirements. Taking into account the company size is an important consideration when choosing recruitment software, as the number of team members and job positions can greatly impact the software requirements needed.
3. User-Friendliness Of The Software
Companies often overlook the ease of use that the software for recruitment provides in the garb of purchasing software within their budget. Companies should understand that software might have fancy features, but it'll cause great difficulties that might hinder the process of recruitment if it's not user-friendly.
Thus to avoid this, other employers of the company should always opt for software that has a user-friendly interface that is simple and clean. Cost should never come in the way of purchasing software for online recruitment. It should not matter that the software for recruitment that is easy to use is expensive compared to software with fancy features but complex. What should matter is the ease with which employers can recruit the best candidates from the pool of applicants.
4. After Sale Support
Softwares are peculiar to the ones who develop. Often companies are duped into purchasing an online recruitment software available at an affordable price but does not offer its users effective after-sale service. Only they have the hack of resolving any difficulty that its users face while using the software.
Considering this, companies should always look for that online exam software that offers its users an option of contacting the customer support team 24*7. Furthermore, their grievances should be redressed within a short period.
For this, another thing that companies can do is check out the customer testimonials before choosing a particular software provider.
5. Cost Of Software For Recruitment
Pricing plays a very crucial role in deciding which software is the most appropriate. However, this should not be the only criteria since companies often purchase online recruitment software at attractive prices but do not cater to the requirements.
Therefore every other factor should be considered while opting for an online test and assessment software for the traditional recruitment process. Companies that provide attractive discounts can also be considered while opting for recruitment software. However, only that software should be opted for which is easy to use, is seamless, provides vendor support, and caters to all the requirements imperative for hiring.
Check Why You Should Choose Pesofts For best Online Test Software
Send Integrated Emails, Messages As Well As Live Chat: For exam sign-in details, instructions, test results, certificates, and reports, send personalized email and SMS. During an online exam, teachers can chat live to solve the query of students. If they want to give some instructions to the students, they can always use the feature of live chat to access the same.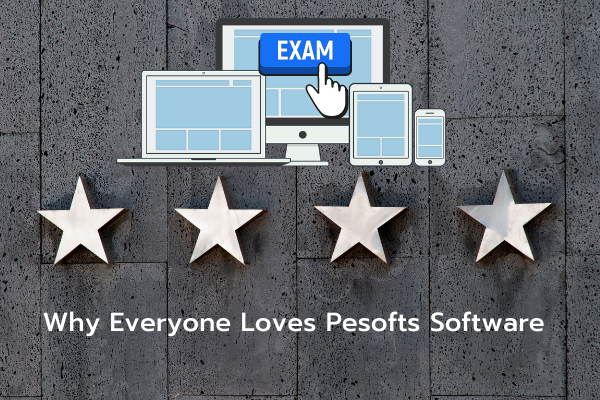 Exam along with data security: You get an email immediately when some candidate tries to copy-paste, print screen, or login multiple times. The software is encrypted with a secure socket layer that prevents the users from getting unauthorized access and resorting to activities such as hacking. Pesofts takes full responsibility to protect our client's data and ensure that it cannot be shared at any cost unless the owner permits the same.
Instant Support For Glitches Of Any Kind: The availability of instant phones and email support for any technical glitches enables the universities to conduct tests confidently. Pesofts has three types of support. Our team is always ready to resolve your query in an instant. For the support considered a top priority, the issue gets resolved during business hours in 0-8 hours. The whatsapp group and email decide problems classified as high priority within 24 hours.
The question would get resolved within 48 hours for issues classified as a medium priority and within six working days for those classified as low priority. Based on priority requests, we also provide remote assistance through Teamviewer, monitor telephone and email support.
Responsive: Candidates can take the exam on any laptop, tablet, mobile, or computer. They are under no compulsion to arrange for a particular device and thus give the exam without involving themselves in any hassle.
Frequently Asked Questions
Answer 1: An online test recruitment software enables companies to hire candidates by conducting a pre-screening test via software. Equipped with various types of proctoring such as audio, video, image, the online test software for recruitment eases the recruitment process by dispensing the need for the candidates to appear physically and publishing instant accurate and detailed results.
Answer 2: A software for recruitment enables employers to offer an integrated personality test that allows the candidate to take the test online anywhere and anytime. As a result, even the recruiters have access to the test and data of the results computed by the software. The software even saves the CVs submitted by the candidates, enabling the employers to analyze and compare the test results and follow a seamless recruitment process.
Answer 3: Having in-depth expertise with the ability to develop software post content research, Pesofts Software for online recruitment is created by its team, which is dedicated. We aim to provide assessment solutions that ensure a seamless and efficient recruitment process so that businesses can hire with confidence.
The Last Word
We have done our bit by explaining the factors you can consider while selecting an online test and assessment software for the traditional recruitment process. However, the only way to find the best software for hiring is to try them before making the final purchase decision.
Companies often give users an option of taking a free trial before purchasing their software, so every company should exhaust this to ensure that the software they have finalized is apt for the recruitment process that they follow. We at Pesofts cater to all the requirements that have been explained above. Therefore a hiring company can prefer Pesofts online recruitment software for smooth recruitment.