How Online Learning Management System Helps the Students?


Learning management systems play a crucial role in promoting eLearning when universities and educational institutions intend to deliver distance learning. These tools are ideal tools to deliver lectures online and create modules online.
Online examination software coupled with software for online classroom makes it possible to teach students and assess them at the comfort of their homes. It takes account of various advantages that educational institutes and students are unaware of.
Therefore, today's article deals with the unexplored benefits that educational institutes and students can get by resorting to online learning management systems for distance learning.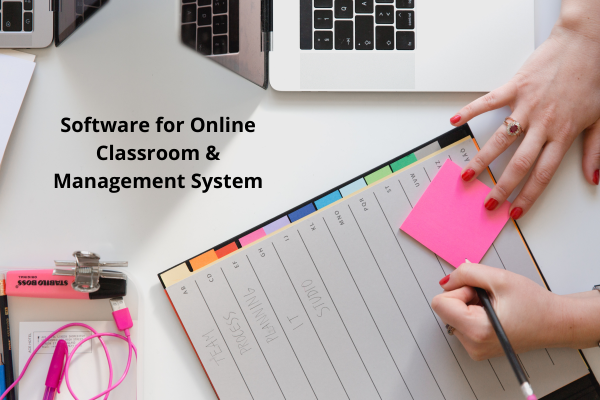 Benefits of Online Learning Management System for Distance Learning
1. Availability of Content at One Location
Learning management system in the form of online classroom software grants teachers the liberty to deliver content related to development, training, and performance with the students. Teachers can thereby store all the information in an organized manner at the same place for students to access.All the users, with a click, can access courses, calendars, multimedia, documents, PDF's and PowerPoint presentations. With this, the students can access the learning tools simultaneously in the middle of the lecture or even post-class. This ensures consistency in the delivery of materials and promotes the availability of the entire content at one location.
2. Unlimited Access to eLearning Materials
Post uploading of content or eLearning course material onto the learning management system, and the students get unlimited access to all the information they need. Wherever and whenever they wish to, even while traveling, students can log in to the systems and access the content uploaded by the teachers through their smartphones, tablets, laptops, etc.
3. Tracking Learner's Performance and Progress
While universities assess students with the help of an online examination software in the form of a learning management system, the same also gives educational institutions the benefit of keeping track of the learners' progress to ensure if they are meeting the performance milestones or not.This gives the teachers a complete picture as to whether students can comprehend what is being taught, and if they find that students are not able to, the teachers always have an option of changing their teaching methodology or content.
4. Reduces Learning and Training Costs
By eliminating the cost spent on traveling to universities to study, hiring online training site rentals, and arranging printed study content, a learning management system helps the students save prices. Distance learners adopting online learning can carry out all their training online. Even the institutes resorting to eLearning can do away with learning and training costs by teaching students online.
5. Reduces Development and Learning Time
We all are aware of the importance of time, and students in distance learning wish to manage their time in such a manner that they study as well as cater to other requirements that are imperative to live their life. That's when the learning management system plays its role by reducing development and learning time—the availability of recorded lectures, course content in a single system.Instead of sitting through the entire lecture, the students can access the online modules and absorb knowledge. Furthermore, assessing themselves also becomes easy because the educational institutes can also add online exams, quizzes in which the students can participate to figure out if they've understood the concept or not.
The Last Word
Learning management systems, therefore, play a part of utmost importance for the purpose of distance learning. However, extracting and exploiting their benefits is only possible when educational institutes providing distance learning use Pesofts online classroom software and software for online exams. That's because it is the best learning management system that efficiently delivers subject matter in the form of lectures and assessments.
Frequently Asked Questions
Question 1: What is a learning management system?
Answer 1: A learning management system is software used by educational institutes to plan, implement, and assess the process of specific learning. Used for the purpose of eLearning practices, learning management systems are used in the form of software for online exams and online classroom software.
This system provides an instructor to create, deliver content, monitor student participation, and assess the performance of students. It also enables the students to use interactive features to access the entire range at one place anywhere, anytime, interacting with teachers and mentors at the comfort of their home, etc.
Question 2: Why Does Pesofts Provide the Best Learning Management Systems?
Answer 2: To ensure that there are no disruptions in distance learning, the Pesofts learning management system is the best due to the following reasons:
1. Responsive: Available at pocket-friendly prices, Learning Management System by Pesofts works well with both laptops and other devices such as mobile phones, tablets, etc. The screen adjusts itself quickly, and the software adapts itself with everything, eliminating the user's mandate to arrange for a particular device.
2. Seamless: Irrespective of any number of users using the software at a particular point in time, either by taking an assessment or taking lectures, the learning management system provided by Pesofts works seamlessly without any interruption or cases of the system hanging or being unresponsive.
3. 24*7 Technical Support: In case our users face any problem, our technical support team is available to resolve all the queries our users face within the least processing time. The 24*7 technical support ensures that any problem encountered by our user while using our software is addressed and catered to hassle-free.
4. Experienced Team of Developers: The fact that all our softwares ranging from online examination software to online classroom software and app for online exams or apps for the virtual classroom, are developed by an experienced team of developers who are experts in their field makes our learning management systems the best. Our developers, while creating our products take into consideration all the aspects and intend to deliver softwares that cater to all the needs of the user.
5. Best After-Sale Service: Often, sellers forget their users post selling their product, but our aim at Pesofts is to even cater to the needs of our user's post-sale and keeping this in mind, we intend to provide the best after-sale service.