How To Build Big Coaching With Online Teaching

Build Big Coaching With the shift of online education due to the unprecedented advent of COVID, every coaching institute has started to re-think and re-visit their presence and expand the same by resorting to online Teaching.
With the introduction of various software facilitating online teaching, coaching centers can cope in this era of increased competition. This is because online education enables the coaching institutes to connect with different teachers and help, thereby providing online classes to an unlimited of students at one time.
Completely different from traditional coaching (Offline Coaching), with online teaching, coaching institutions can offer lectures most suitably as there are no time constraints. Allows students to select the coaching timings as per their schedule.
Learn More About The Pricing Of Pesofts Proctoring Software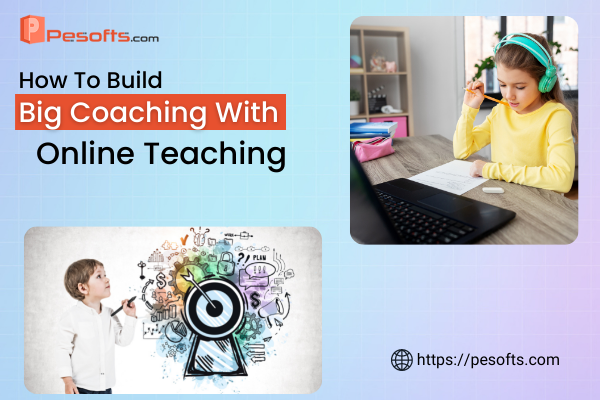 Best Ways to build big coaching with Online Teaching
If you want to increase your income from coaching, then online teaching should be your go-to formula.
How To Build Big Coaching With Online Teaching
Irrespective of the type of coaching provided by any coaching institute, every coach endeavors to drive meaningful customer transformations and build big coaching. In the following ways, coaching institutes can build big coaching with online teaching:
1. Installing Pesofts Online Teaching App

A) Sharing Demo Videos To Attract Students
B) Upload Demo Study Material
C) Delivering Live Lectures Online

2. Selling a Series Of Online Mock Tests
3. Creating Online Courses
4. Providing Students with Extra Classes
1. Installing Pesofts Online Teaching App
Online teaching apps have worked like magic to ensure continuity in education in schools and universities. That came as a boon for the students and teachers amid the pandemic, and its feature of "live classes" ensured the maintenance of the connection between the intermediaries of education. With the advantages that an online teaching app offers, it has become one of the most indispensable "online teaching" gifts.
Against this backdrop, every coaching institute planning to expand should install Pesofts online teaching app. With the same, coaching institutes get the opportunity to do the following through online teaching and Online Exam to expand their scope:
Checkout The Online Exam App & Enquire us For The Demo
A) Sharing Demo Videos To Attract Students
Students usually are skeptical when choosing a particular Coach to teach them a specific course, and they tend to get more skeptical when choosing their teacher online. However, coaching institutes can upload and arrange live demo study videos to build students' trust through online teaching apps.
Students who take these live demo classes know their institute and the teaching staff better. This also gives them the advantage of having a limited classroom experience before enrolling.
With Pesofts Live online classroom software, coaching institutes can share any number of demo videos and hold live online classes. Not only this, but they can ensure the availability of the demo videos for a limited time post which the same would disappear from their feed.
B) Upload Demo Study Material
If coaching institutes plan to increase their market upload demo study material for free, they can consider themselves one step ahead of their competitors. This is because when students get demo study materials from the institute that they are planning to join, they bring clarity with regards to the course that would be taught in the institute.
Once the prospective students get a chance to view content-rich study material, their chances of enrolling increase as this strategy leaves a lasting impression on the students concerning the coaching institute.
With Pesofts online teaching app, you can easily upload content in any format, which can be viewed by the students whenever and wherever they want to. The online teaching app also gives the students the option of accessing the available content on the app in any language.
Know More About the Make a Quiz With Quiz Maker Software
C) Delivering Live Lectures Online
Teachers, while taking coaching, can take live online classes wherein the students and teachers can connect like physical coaching. This feature ensures the connection between the mentors and students, and they do not feel as if they are alone. There's also a text chat feature available, enabling the teachers and students to communicate throughout the online lecture seamlessly.
The online teaching app has a whiteboard available to the teachers; they can easily teach students conveniently without arranging for any specific device. Teachers can quickly write on the board, and students simultaneously can take notes.
While delivering lectures through Pesofts online teaching app, teachers or learners can easily set the country where they belong and the suitable time zones. Every user would get a notification regarding the scheduled class, which would simplify the entire process of online coaching.
Checkout The Online Assessment Software
2. Selling a Series Of Online Mock Tests
When institutes think of expanding their profit and scope through online coaching, another step that can help them in this direction is conducting Computer based tests Software and providing online mock test series. This aids them in gathering leads for the institute and showcases their ability to take tests online. The idea here is simple, but most coaching institutes do not have the proper means to ensure the seamless delivery of online tests.
Pesofts online exam software is one medium through which the coaching institutes can efficiently conduct online tests and share their institute's information. With the software, students can create their tests, which prospective students can take through the app, which aids the institutes in growing.
3. Creating Online Courses
Apart from providing live lectures for particular subjects, coaching institutes with online teaching can also create online course Software and can, after that, provide certificates according to the completion of the system. When coaching institutes make online courses, they plan to deliver the same through an online teaching app, and when students register for it, there is an increase in their income and brand.
If students have to purchase any paid course or mock tests from the coaching platform, they can easily undertake the same since the software has easy and secure payment gateways.
4. Providing Students with Extra Classes
It was often difficult for the teachers to take extra classes amidst busy, packed schedules and simultaneous classes in traditional teaching methodologies. But with online teaching, students and teachers are at ease. When teachers are at ease, they can make efforts to take extra classes for students according to the completion of the course without any additional charges.
This is one of how your coaching institute would expand because when students get to know about the extra efforts you're putting in, they'll be attracted to your institute. It would surely expand your scope without you putting in much effort.
Checkout The Online Exam Software Pricing
The Last Word
Delivering lectures seamlessly is an art that every coaching institute must master if they plan to expand. To gain a leading edge in this digital world to connect with students during this pandemic, every coaching institute thinking to become big should always prefer Pesofts products such as an online teaching app and online examination software.