How To Get More Students Online and Sell Online Courses To Them



We will discuss this article on how to get more Students Online and Sell Online Courses. During COVID, when people were free sitting at home, the trend of enrolling on online courses through online course software had increased. Still, Now ever since the situation has returned to normal, students have started to prefer focusing on their studies online. As a result, it has become increasingly important for online educators to develop effective marketing strategies to attract potential students and stand out in the competitive online education market.
We can't forget that online courses are easily available for everyone and can be accessed by students from anywhere around the world. Against this backdrop, the institutions providing online courses are thriving to devise new ways to attract more students so that the educational institutions can continue with the same.
Conduct Offline Tests Using Computer Based Test Software
The increase in online courses has made it difficult for them to stand out from their competitors. The old saying, "if you build it, they will come", might be applicable in other situations, but this doesn't apply to selling online courses.
To get rewarded for the hard work that educational institutions put in an online course, they should know how to promote their online course and resort to various marketing techniques.
Learn More About The Pricing Of Pesofts Proctoring Software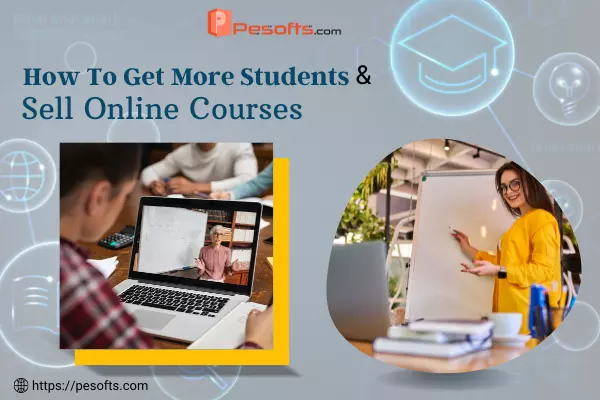 Best Ways For Getting More Students Through Online & Sell Course To Them
For selling your online course, you must create strategies that not only aid you in standing apart from your competitors and attract students so that they keep you and your concern going.
1. Invest In Teaching App: Get More Students Through Online Teaching
2. Conduct & Provide Free Demo Tests To Increase Authenticity
3. Provide Certification On Completion Of Course
4. Give Offer Discounts To Students
1. Invest In Teaching App: Get More Students Through Online Teaching
When you invest in an online teaching app, the methodology you impart your online course completely changes. This is because, through an online teaching app, your teachers get the liberty to upload demo videos, study material that can be accessed by prospective students anywhere and anytime.
When the students see the demo videos and read the material, they get confidence concerning your online course. Furthermore, through this app, teachers can deliver online lectures even for online courses, which ensures that touch is required while teaching.
Investing in an online teaching app for your online course makes your course more promising, which plays a significant role in attracting students and selling your online course. After that, Get More Students through this method.
Learn More about Online Assessment Software
2. Conduct & Provide Free Demo Tests To Increase Authenticity
Students often think about what they would do if they enrolled themselves in a particular online course as ideally, until and unless the same is from a recognized university, it won't have any credibility. To bring this element of credibility to your online course.
It becomes imperative to conduct an online test through Pesofts online exam software. One aspect that needs consideration in this Online Test is the authenticity of the students who would give the test because they tend to cheat during the exam.
Online exam software also takes care of this aspect by including a proctor with it, ensuring that students do not resort to prohibited means with various forms of Proctoring such as live Proctoring, automatic Proctoring or image-based Proctoring Using Proctoring Exam Software  Feature.
The proctor aids in maintaining the exam's credibility. The software not only has a proctor but with the same institutions imparting online courses can create multiple tests by inserting questions in any manner easily.
Checkout The Online Exam Software Pricing
3. Provide Certification & Scholarship On Completion Of Course
Scholarship With Certificate play a critical role in whether Learners should enroll in a particular online course or not. Post completion of tests, organizations devising online courses can give a certificate with Scholarship test to the students with which the Trainees feel that the online course added some weightage to their CV.
Give Offer Discounts To Students
Without students being much aware of your online course, it becomes difficult for the Learners to convince them for signing up for a particular course. This, however, is possible when you give Learner an offer that they can never refuse, which can be in the form of offering discounts or providing them with referrals.
Checkout The Online Exam App & Enquire us For The Demo
The Last Word
Amid this pandemic, technological advancements and careful planning have resulted in many educational institutes offering online courses to deliver in-depth and quality teaching of a particular subject. We all know how Online teaching apps have proved the validity of online courses. Still, for them to survive, it's important to resort to various methodologies discussed above to ensure the growth of your online course.
Pesofts education software in this regard play an important role in attracting students to your online courses. Available at affordable prices, our software has all the essential features for ensuring a seamless experience of our software.