How To Transform Your Remote Exams Conduct Experience?

It's good news that the second wave of the pandemic has almost subsided, and the unlocking process has started. But that doesn't give educational institutions the license to conduct large-scale online exams even if they adhere to the CoVID protocols.
When this is not possible amid the pandemic, one thing is certainly possible for sure, which is giving the universities the Pesofts online exam software to transform their remote test-taking experience.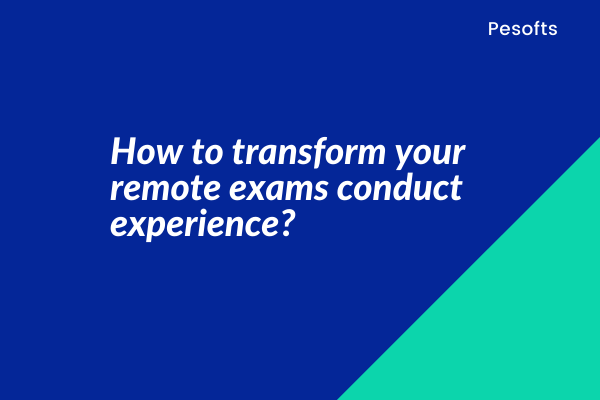 Irrespective of this, educational institutions have always expressed their concerns to use online exam software as a platform for assessing students due to their lack of awareness, resistance to change, and security concerns. However, to instill a sense of trust and ensure the successful conduction of these extensive scale exams, it is of utmost importance to ensure that universities opt for the right software for online exams.
Today's article aims to highlight how Pesofts virtual exam software can enhance your remote test-taking experience.
How Does Pesofts Software for Online Exam Transform Your Online Exam Conduct Experience
Developed by a highly experienced team of experts, the Online Exam Software provided for Pesofts is easy to use, enhanced online exam platform that plays a crucial role in helping educational institutes conduct safe and secure online exams. Coupled with an artificial intelligence-enabled proctor, the software prepares comprehensive exam reports.
Let's understand how the experience of any educational institution can be transformed with the virtual assessment software provided by Pesofts.
Scalability
Universities often feel that an online exam software would handle the load of innumerable students attempting online exams at a particular point of time located globally at different locations without any glitches. This is one factor that prevents them from still resorting to virtual platforms for assessing students.
Considering the exam conducting agency's aim of conducting large-scale online exams virtually, the software developers at Pesofts develop the software to handle large-scale exams with innumerable students giving the assessment consecutively globally as per different time zones. The software is scalable enough to control a load of such numerous test takers at a point in time.
User Friendly
The lack of knowledge and technical illiteracy on the part of the teachers responsible for conducting exams is another factor that prohibits the universities from assessing online. Moreover, giving teachers a demo on creating an online test and using the online exam software feels like a burden.
Thus, Pesofts online assessment software is so easy to use that anyone who is not gadget friendly would also be comfortable using it. Furthermore, the software's user-friendliness ensures that teachers can create online tests comfortably. Our team, after purchase, gives the users a demo on how to use the software and is always on their toes to assist the users wherever they are stuck.
Any format of questions with appropriate settings
Universities often express their reservation about conducting online exams with an apprehension that they will have to restrict themselves concerning the type and format of questions they wish to ask from the test takers. However, they have the freedom to include any question in a pen-paper exam, and this freedom acts as a barrier for shifting to assessing students virtually.
To therefore give universities the liberty to add any format of questions that they wish to while assessing the students online, our software for online exams is developed in such a manner that universities, while creating an online test, can add any question format ranging from MCQ's to complex scientific or numerical equations.
Furthermore, after the teachers make the test, they can adjust the settings concerning when the test will be available, the date on which the students will have access, and the time limit within which they are required to complete the test.
Online Proctor Deters Students from Cheating
One of the significant concerns every university faces while weighing between conducting exams online or offline is that students might resort to unfair means. Yet, at the same time, they give an exam online due to the absence of an invigilator.
Pesofts, to transform their remote test-taking experience, has resolved their concerns by adding the online proctoring feature in its software for virtual exams. However, the artificial intelligence-enabled proctor only allows the students to access the exam after the two-factor authentication. After that, they have to verify their identity and give the software access to their camera, microphone, and screen.
Further, the geotagging feature enables the exam conducting agency to know about the students' location from which they are giving their online exam. The proctor also prohibits the students from logging through restricted devices by generating unique login IDs and passwords that can only be used once. Students cannot share their screen via screen mirroring or visit the websites prohibited by the exam conducting agencies.
Security
The secure socket layer installed in all our software prevents access by unauthorized users. This saves the data stored in the software and avoids paper leaks before the scheduled date of the exam.
Responsiveness
India is still not included in the list of developed countries, and we are aware of the economic slowdown due to the pandemic. Therefore, to decrease the financial burden, our software for online exams is responsive. That is, it works well on all devices as well as operating systems. This ensures that students, irrespective of residing in any part of the country and having any device, be it a mobile phone or a computer or a laptop, can take the online competitive exam to take a step ahead towards their dreams.
Free Trial
Pesofts does not believe in imposing its software on anyone and respect our users' freedom and their choice. Therefore, before our users finally make up their minds to purchase our software, they opt for a free trial in which they get access to all the features they would enjoy when they make the actual payment.
Cost Friendly
Initially, the universities and all the exam conducting agencies might have to face the heat of shelling out funds out of their expenses to invest in setting up software for virtual exams. However, we at Pesofts ensure that the amount of money that any educational institute will have to spend would not be that much that destabilizes their monthly expenditure. All our software for online exams are available at different rates, depending on the software's features.
However, the universities need not worry. Even if they opt for the least expensive software, they should be assured of getting all the essential elements that the right online exam software should have to conduct extensive scale exams. If they want more additions and customizations, we're there to fulfill their demands by adding the specifications as per their needs.
24*7 Tech Support
Pesofts never believes in keeping its users hanging in the middle of a technical glitch encountered during a live online exam. Therefore, to avoid this situation, we have a separate technical support team available 24*7 to solve any problem faced by any student during an online exam or by any teacher while he/she is creating an online test.
The Last Word
Our aim at Pesofts is to include all the features that we can in our online exam software, which help enhance the remote test-taking experience of all our users. To ensure this, our talented bunch of experienced individuals who graduated from various recognized engineering schools work hard and put in all their efforts to develop the right online exam software. Therefore, our software is not only easy to use but worth giving a shot.
We assure you that you won't be disappointed.
We at Pesofts are there for you at every step. If you have any queries, we assure you to resolve them within a short period. Just lend us our hand & we will ensure you put ten steps forward for the students & the educational institutes.