Top Skills That Every Teacherpreneur Needs

Teaching online using online teaching apps and online software for classrooms is the latest teaching method that teachers have adjusted to. While they've gotten used to the online classroom application to be at ease using virtual teaching, which is likely to be the norm shortly, teachers must be proficient in their skills and knowledge to be successful. This is where the concept of the Teacherpreneur comes in, as teachers must now not only be educators but also entrepreneurs, utilizing their skills and knowledge to create successful online teaching methods and programs.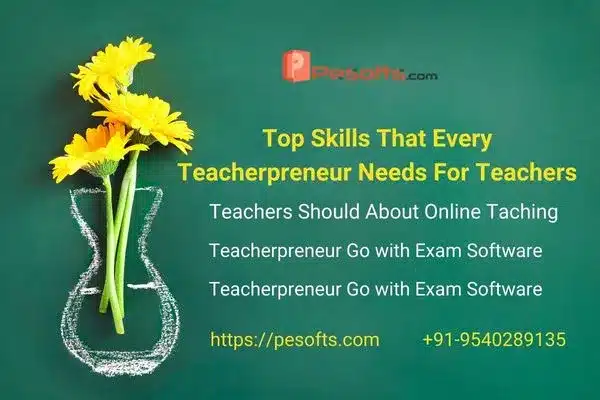 This is because every day is an experience of learning through online education, which is why this article will discuss certain qualities that can aid online teachers in enhancing their abilities.
The skills that every teacherpreneur online requires
Being able to demonstrate basic technical capabilities
Teachers must be comfortable with technology and have the basic technical knowledge to instruct online. This includes utilizing a computer, browsing the internet, writing and sending emails, uploading or downloading documents, designing spreadsheets, documents, and presentations, taking part in video chats, and solving common technical problems.
These basic abilities only apply when teachers instruct students using user-friendly online classroom software. The most complex online learning applications require teachers to be informed about the latest technology. With simple online learning applications, teachers with no technical skills can easily upload their files, video recordings, and lectures, create multimedia presentations for their students and keep track of their student's progress using these tools.
Checkout The Price of Online Exam Software on Pricing Page
Online teaching is undoubtedly improved when you are comfortable with these tools and are proficient in their usage. Assignments can be uploaded, students' work can be evaluated, discussion groups can be formed, and exams can be administered. This can help provide for a wide range of needs for students.
The ability to talk to teachers and students freely
Teachers should be excellent communicators. They must also be able to engage with students, parents, and guardians. If a teacher fails to convey the information to the students, then the information is useless. Establishing trust and community is essential because, for many parents and students, the online learning experience may be foreign.
Students are more likely to achieve their goals through teachers who are considerate and straightforward in their communication. Through the online learning application, teachers can enhance communication with all stakeholders in education with its tools. Active listening, adapting your communication style to the audience's needs, and understanding body language are just some basic ideas.
Teachers Can Controlling There time
Time management, or efficient and efficient utilization of time, is beneficial in all aspects of life and includes online education. Certain people manage their time efficiently due to their personalities. They are typically flexible, outgoing, organized, and dependable. However, with a little effort, individuals of every kind can effectively control their schedules.
Every aspect of time management is dependent on one's ability to plan. Making lists of everything that has to be completed and prioritizing it is the most accessible type of time management. Examples include planning lessons and searching for sources.
Engaging students with creative ways to get them involved. students
Teachers who encourage creativity and think outside the box are best placed to help students succeed in a virtual learning environment. Online learning allows teachers to think outside the box and create exciting educational experiences for their students. Each class or subject that includes everything from physical education to social studies could be taught using software for classrooms online in a virtual classroom.
Students' higher retention of information can be accomplished by using innovative internet-based learning technology. Students regularly explore new options because an online learning environment allows for a wide range of live, virtual instructions, assignments for individual students, and project-based tasks. You must be able to motivate students. It is essential to know how to create an engaging online course.
Checkout The Online Assessment Software
The ability to keep the learning environment alive while you're not in an actual classroom or a physical location isn't an easy task. But, effective teachers, or Teacherpreneur, can inspire students in any environment or subject. It's essential to spot the students' passions and connect the learning experience to their needs and the outside world. Physical exercises and asking students to complete tasks instead of just listening are beneficial.
Teachers Have Regular Feedbacks
It is crucial to receive regular feedback for any service provider. A teacher should know the difficulties facing their students and ensure that the online instruction they provide assists them in solving these problems. This can be accomplished through feedback. It is possible to learn more about the types of online training that consumers would like through market research.
They determine their ideal market and then study the communities and websites they use, with an emphasis on understanding how to effectively market their services as a Teacherpreneur. I am just asking students if they have any additional comments about the online classes will allow us to gather opinions from them. Utilizing surveys, evaluations, and other organizing tools will make organizing the sessions easier for the Teacherpreneur.
Learning New Techniques Help Students
Thinking that instructors don't require formal education is the most severe mistake a teacher could make. Teachers and tutors must receive continuous training and should take classes to improve their knowledge of the topic they teach. To develop new methods to engage their students and teach specific topics, they need to remain abreast of technological advances and digital media's rapid growth. The rise of the teacherpreneur has highlighted the importance of teachers taking ownership of their professional development and utilizing their skills and knowledge to create new opportunities.
The rise of virtual learning environments, such as online examination software, online classroom apps, and online learning apps, has changed how we teach knowledge. One of the areas of science that is developing the most rapidly is the field of communication technology. Teachers must acquire the knowledge to use technology to enhance their educational process.
Being Adaptive Always Help
If the plan doesn't work out, Teachers who teach online must react swiftly. The most effective teachers quickly modify their lessons and teaching methods without delay in unexpected circumstances like interruptions or technical issues. Teachers using online technology must have a backup plan and troubleshooting plan if the presentation is loading slowly or there's an issue with the video conference.
Each student can grasp the fundamental concepts when instructors are flexible and can personalize their approach to learning when required. Sometimes, it takes several attempts and different approaches to assist a student in grasping an idea that is difficult to grasp. Teachers may communicate with students by phone, online resources, or video conference software to ensure that every issue is answered.
Subject Expertise To Teachers & Students
Modern educators are knowledgeable about the subjects they are teaching. To ensure that they teach pupils the same. Teachers must be able to design, teach and distribute lessons at any time and wherever. If teachers do not have enough time to prepare for their lessons, it shouldn't be difficult to instruct the students based on their expertise and knowledge. Here are some suggestions to help you learn more about your subject:
Find out more information about the topic to learn more about the subject.
Find reliable informational publications, journals, papers, and papers.
Watch video clips to help you understand concepts more clearly.
Being Committed To Both The Sides
The teachers are invited to be involved in online educational environments and engage with students. To understand the needs of students learning needs, educators of the present must engage with and interact with students. Students also expect their teachers to be available whenever they need to be. It is crucial to understand the importance of engagement as well as dedication to work. Here are some suggestions to assist one in becoming more committed to online education.
Being accessible at all times.
Keep in contact with your pupils.
Pay attention to the issues and needs of your students.
Make sure to schedule your classes, assignments, and exams regularly.
Conclusion
These are just a few traits of an excellent online teacher vital to online instruction. Even if you don't already possess all the above qualities, you can master them if you desire to. Online learning depends on the instructors' desire to learn and development capacity.
Writer & Publisher
Manjeet Mehta CEO @Pesofts
Manjeet Mehta is a professional writer and also the CEO @Pesofts, He passes out from IIT Roorkee in the year of 2013 and started their own business with thinking of the growing education sector with the help of technology. You can check out LinkedIn him and follow here LinkedIn