Difference Between Classplus, Teachmint, ThinkExam, and Pesofts



The sudden shift of education from offline to online has resulted in the growth of some software providers providing online teaching apps to make imparting lectures seamless.
From schools to colleges to coaching institutes, every intermediary related to education has resorted to this new teaching model.
Against this backdrop, it becomes imperative to understand the ideology various online classroom software providers resorted to and which software provider is the best among all.
Learn More About The Pricing Of Pesofts Proctoring Software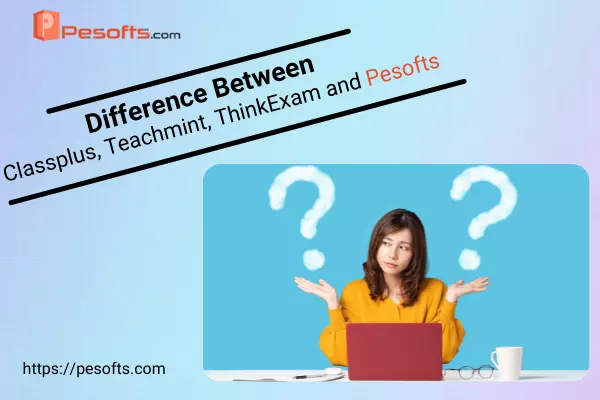 Today's article deals with the difference between the software provided by Classplus, Teachmint, ThinkExam, and Pesofts.
Before figuring out the differences between the software providers, let us briefly understand each.
Classplus
Involved in providing online classroom software, the online teaching app by Classplus gives its users the facility to teach students through live classes. By using this app, coaching institutes can also upload unlimited video lectures, and by using the dashboard for marketing, they can create coupons, send notifications, etc., to the students.
Teachmint
This education software provider provides educational institutions with a one-stop solution by providing an online classroom platform where the faculty can interact with the students and share the study material, videos, etc. While using TeachMint's online classroom software, users get the opportunity to manage their schools most efficiently with this software.
ThinkExam
ThinkExam provides its users with online exam software with the help of which the exam conducting agencies can conduct large-scale online exams to assess candidates.
Pesofts
Pesofts is one such software provider that gives its users the facility of assessing students online by providing online exam software and enabling them to take classes online by providing online classroom software. Considered the software provider giving its users the benefit of the best of both worlds, when educational institutions and intermediaries associated with it opt for Pesoft, they can be at ease by purchasing its online exam app, Online Assessment Software, and classroom software. Furthermore, the reasonable cost at which this software has all the necessary features available does not burden the budget of schools, universities, and coaching institutions.
TrigrExam
At TrigrExam, we build softwares that enable our users to mark their presence globally. Teachers can only survive and thrive in this competitive world if they have the means to resort to softwares for learning management software that gives them the freedom to present their knowledge worldwide.
Learn more about Quiz Maker Software
Which Is The Best Amongst All?
Since we know a brief about all the software providers discussed above, it's time to understand which software is the best. Let us decide with regards to the features provided by this software:
Easy To Use: Software provided by TeachMint, ClassPlus, TrigrExam as well as ThinkExam might sound promising, but one aspect which puts them behind Pesofts is that the software supplied by Pesofts is easy to use, whereas the ones provided by others are not. Ease of use of any software plays a crucial role in the software's functions. If the software's functioning is difficult to interpret, users may restrain themselves from preferring the same.
Scalable: It's extremely difficult for every software to sustain without crashing when many students simultaneously access the software for taking a class or giving a particular exam. However, Pesofts software for online exam management and online teaching apps is scalable enough not to crash even when the same is used simultaneously by various students.
Easy Payments: Normally, all the software, such as online classroom software and online exam software, have the feature wherein educational institutions can sell a particular course module or mock test series but have limited methods of payment.
Software provided by Pesofts, on the other hand, along with enabling educational institutions to upload mock test series and various online course modules, also makes payments the same easy for students by giving them multiple modes of payments such as payment through UPI, NET Banking, Debit Card, Credit Card, etc.
Reasonable Prices: Often, software for online education is available at low prices. This often attracts various educational institutions that buy software with complex features under the pretext of saving money.
However, Pesofts software, on the other hand, is not only available at reasonable prices, but the software has all the features essential to teaching students online seamlessly.
24*7 Maintenance Support: After-sales services are what most of software providers do not provide, or if they do so, their charges are high, which discontinues the educational institutions from not purchasing the software. However, this is not the case for software provided by Pesoft.
We not only offer free after-sales service, but we have a dedicated team available 24*7 to provide maintenance support. We understand the inconvenience that schools, universities, or coaching institutes can face if the software stops working, and considering this, Pesofts tries to resolve the difficulties they face within a short time.
The various features, coupled with Pesofts' benefits, stand it apart from the innumerable software providers in the market.