How Can Students Learn Better From Gamification Of Education

The sudden shift of education from offline to online due to CoVID and teachers taking lectures through online classroom software has resulted in most students losing their motivation to study seriously. The fact that there is none in front of them to check their concentration level has resulted in students using various tactics to ensure only their virtual and not physical presence in the school.
This laxity and disinterest, which is because of a class teacher's physical absence, can be detrimental to their growth. Teachers resorting to gamifying education and classroom with online classroom software can be countenanced. Gamifying education is an alternative to make learning fun and motivate the students to participate in classroom activities proactively.
The word "Gamification of Education" has been widely used by educational institutions for many years. Today, the article deals with how students can learn better from gamification of education to make our readers aware of its advantages on students' performance.
Know more about Online Teaching Software Pricing
But before proceeding further, let us first understand the concept of gamification of education in brief.
Gamification Of Education
Gamification of education can be called a process in which teachers while teaching various concepts, use different methodologies to make education fun by using characteristics of games. This involves resorting to multiple elements such as competition among peers, rewarding with coins that students can later redeem to upgrade their grades, maintaining scoring tables for active participation, and assigning them unique tasks that drive them to think out of the box.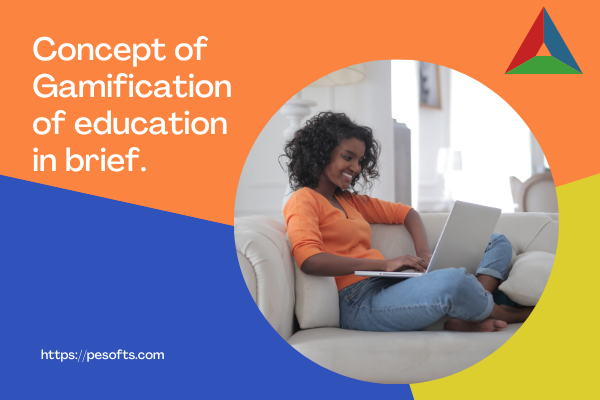 Ways In Which Teachers Can Resort To Gamification Of Education Using Online Classroom Software
We all know how video games tend to keep children and adults hooked. Thus even if educational institutions, with the help of online classroom software, keep the students engaged in the online Teaching platform by imparting lectures using games, it would result in similar engagements.
Education can be gamified in the following ways:
Students can be inspired to look at simple tests and assignments entirely differently. The same can be done by rewarding them with coins, redeeming them to upgrade the grades upon timely submissions. When students would be motivated to improve their rates in the future upon completion of assignments as per the teacher's expectations, they would indeed tend to participate in classes actively.
Create Atmosphere Of Healthy Competition Among Peers
One of the basic tenets of gamifying education can be creating an atmosphere of healthy competition amongst peers. This can be done by dividing students into groups, giving them particular tasks, and letting them know the incentives they can have that they'll be able to take advantage of after the task's completion. To make the task challenging, while students complete the assignments, teachers can introduce some playful barriers that can be academic, social, private, and creative.
Offer Students Badges Instead Of Grades Or Coins
Tangible things at times make students happier since that's something which they can cherish and keep with them forever. Instead of giving coins or grades, teachers can also offer badges to students when they reach certain checkpoints or levels. An incentive to receive more badges encourages students to participate and learn better.
Encourage Informal Learning By Gamifying Homework & Assignments
Even the students' homework can be gamified by teachers to create an informal environment. In one of the assignments, teachers can give students a proposition and thus allow the students to take various roles as learners. Some of them can be a judge, designer, father, mother, teacher, and then see the students' creativity out of that role. Games give curiosity and learning an opportunity to continue even after the bell rings.
Thus, a classroom containing some of the elements discussed above can be classified under the head of a "gamified" classroom. However, one should never forget that the best combination in this regard is the one that creates engagement amongst students and caters to the learner's unique needs, and motivates them to perform better.
Considering this, let's see how students can benefit from gamifying education. Using gamification while teaching through online classroom software can be advantageous for the students learning in the following ways:
Relaxed Environment Encourages Students To Portray Pro-Active Participation
When teachers gamify education, the environment of an online classroom Software becomes casual. Motivates students to put their introverted personalities aside and participate in whatever's happening at the school. When students participate actively, they pay heed to whatever's being taught, which thereby aids them in concentrating as well as retaining the lecture.
They Tend To Think Out Of The Box
Learning by way of gamifying the entire concept can often motivate the students to think out of the box as the assignments which the students get in the form of tasks are no longer only copying answers written in the textbook but are much above that. When the faculty makes an effort to give fun tasks, the students too are motivated to complete the same with unique ideas to score the highest grade point.
Gamification Boosts Student's Confidence
In a relaxed environment, if a student participates and says something incorrect or not up to the mark, they would not feel embarrassed but ownership over their learning. They would tend to put forth even other propositions that are apt for the situation given to them at hand. With this, that particular student and peers would manage to participate even if they are not fully aware of the concept. Thus, these active participation activities would boost students' confidence and explore their different identities in this process.
Students Discover More Information
With the motivation to perform the best amongst their peers for getting the best grades or reward points, students tend to work hard on every task the faculty gives. In this process, they often discover more information through research on the internet and by reading papers that they usually won't be able to collate and find if they only restrict themselves to textbooks. Students also feel more powerful when they realize that they have the control of marking their learning journey from task 1 to task 2
Learn Factors To Consider Before Buying An Online Proctoring Software
The Last Word
Thus, teachers can measure students' progress with more fun in the classroom by increasing participation and resorting to various progress indicators. Students learning beneficially for them in the post CoVID era is only possible when every educational institute prefers imparting lectures through Pesofts online classroom software.