The Complete Online Examination System Advantage & Disadvantage

The advantagement of the online examination system has completely revolutionized the manner of conducting exams or tests. The advantages of online exams are innumerable, keeping into consideration the current pandemic.
Online Examination software/system has played a crucial role in ensuring continuity in assessing students and promoting them to the next academic year. Irrespective of this, some universities have expressed their reservations about adopting online exams as the new mode of conducting online exams and online tests. This has negatively impacted the students and has caused disruptions in the smooth flow of teaching too.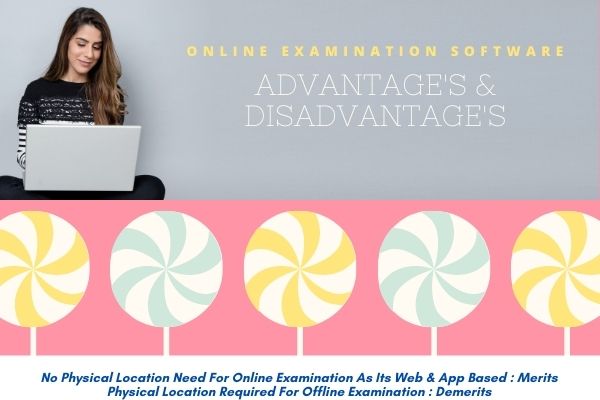 Therefore, today, we've attempted to change the notion by discussing the merits and demerits of online examination in detail to enable the universities to weigh the pros and cons and make the right choice.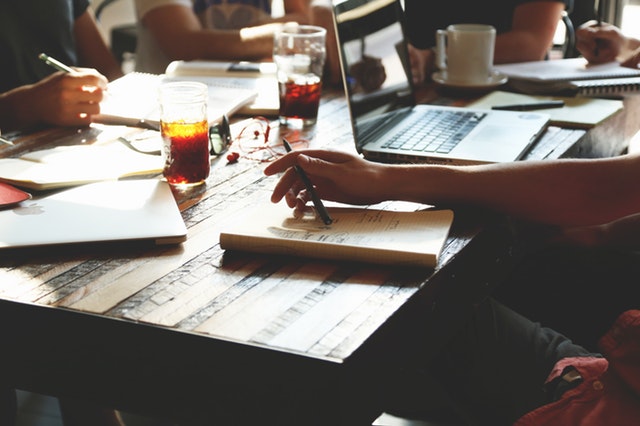 More Than Top 10 Advantages of Online Examination & Examination System
1. ✔️ Reduces Administrative & Students Burden With Online Examination
2. ✔️ Stabilizes Student's Mental Health With Online Examination System
3. ✔️ Minimizes Chances of Cheating in Online Examination
4. ✔️ Immediately Possible To Generate Examination Results
5. ✔️ Examination System is Highly Secured With proctoring Feature
6. ✔️ Reduces Exam Conducting Costs As Compare To Offline Exam
7. ✔️ Saves Environment Trees, By Using Internet System
Some other benefits & pros of online examination is its ✔️ Hessle free, ✔️ Proctoring feature(Secure exam with no cheating), ✔️ No physical present need of teachers, ✔️ Cost effective, ✔️ Auto calculation, ✔️ Accuracy Paper Checking, ✔️ Ontime Quick Result, ✔️ Reduce man power required, ✔️ No travel need to students.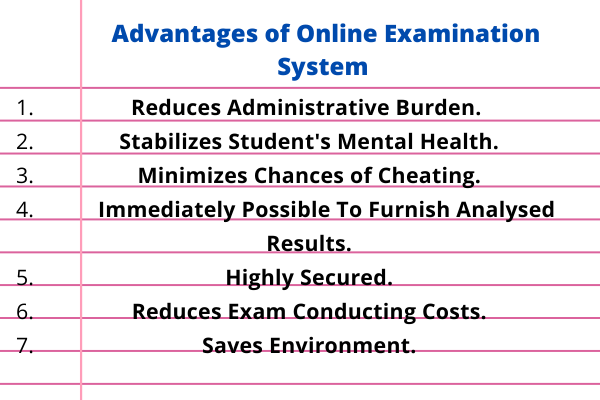 How To Benefits of Using Online Examination System
Resorting to an online form of testing with the help of online examination system is like opening Pandora's box, which is full of innumerable benefits for both the examiner and the examinees. Because of the benefits that online examination have to offer, this testing method has become increasingly popular. Universities After CoVID-19 times have been using this mode only to conduct extensive scale examinaion of students.
1. Reduces Administrative & Students Burden With Online Examination
The amount of effort & Challenge that any offline exam conducting agencies has to take to arrange an exam or entrance tests successfully is tremendous. Starting from looking for centers where the students will give their exam to setting for invigilators and then sourcing teachers who would check the papers and prepare the result., they have to ensure that everything is in place.
This stress puts a lot of burden on the administration since they also have to prepare a list of the number of students who would give the offline exam, arrange for attendance sheets, question papers, etc. However, on the other hand, in an online exam, many steps involved in conducting a traditional(offline) exam are not required in this era.
Software for online exams condcuting reduces the burden of the administration, since students can give virtual assessments exams without going to an exam center. Further, there is no need to either prepare an handmade attendance sheet or print question papers. The results get quick published too. The proctoring feature of the software ensures that students do not cheat, so an invigilator is taken care of too.
2. Stabilizes Student's Mental Health With Online Examination System
The fact that students feel anxious before giving an offline exams is pretty much obvious. The exam center and the environment often used to put students under stress which took a toll on their mental health. But in an online exam, the test takers can give the exam at the comfort of their home anywhere and anytime on any device. The responsive feature of the online examination software ensures that the students give their exam with any device they're comfortable using, which plays a crucial role in stabilizing their mental health.
3. Minimizes Chances of Cheating in Online Examination
Educational institutions have always been skeptical about online exams. One of the main reasons for this hesitance is their belief in students resorting to unfair means while giving the exam. However, the online proctoring platform feature coupled with artificial intelligence, it's ensures that students do not resort to standards that are prohibited by the online exam conducting agency.
By acting as an invigilator, the proctor system features only allows any student to attempt the exam after verifying their identity, permitting the software to access the device's camera and microphone. If they do not comply with the restrictions, the proctor gives them a chance, and despite the red signals, if the students do not comply, their exam gets canceled.
Checkout What Factors To Consider Before Buying An Online Proctoring Software.
4. Immediately Possible To Generate Examination Results
Checking answer sheets after conducting an offline entrance exam on a large scale is one of the most challenging aspects of the offline exam. Manual checking and preparation of results along with time require effort. But with an online exam, all of these efforts are saved and can be used for something else.
That's because the software through which the examiners conduct exams is capable of furnishing detailed analyzed results. This reduces the examiner's stress and enables them to focus on the students who need extra attention.
Checkout What Are The Differences Between Offline vs Online Test Platforms?.
5. Highly Secured Examination System
All of us are aware of incidents related to the leaking of question papers before the exam. Students always wonder as to how third parties get hold of their numbers that they provide while filling a form for the entrance examination. This is often possible when the universities conduct exams via offline mode.
However, on the other hand, the computer-based exam software via which universities assess the students virtually is equipped with a secure socket layer certificate that prevents unauthorized hackers from accessing the information and keeps the data that universities store in it protected.
6. Reduces Exam Conducting Costs As Compare To Offline Exam
Conducting an offline exam can be a costly affair since the university has to make arrangements for everything to students & invigalators. This has a direct impact on the number of examination fees that the institutes charge from the students.
In an online exam, all the universities have to do is invest in an online exam syste which is an asset that is profitable in the long run. Less exam conducting system cost also means fewer examination fees to students, therefore beneficial for both the students and the universities.
7. Saves Environment Trees, By Using Internet System
The transformation from the traditional mode of assessment to an online exam saves a lot of paper which is otherwise required in printing question papers, answer sheets, attendance sheets, etc. Less requirement of paper for sure reduces the reliance on wood, thereby saving the environment and deforestation.
Top 4 Disadvantages of Online Examination & Examination System
1. 😔 Require's Stable Internet Connection
2. 😔 Requires A Device For Online Examination
3. 😔 Poor Correlation With Understanding
4. 😔 Hurdle For Students Not Technically Equipped
Some other Demerits & cons of online examination software is 😔people not friendly to technology, sometime 😔cheating happen if proctoring feature is not available, 😔😔mall practicing, 😔unemployement to teachers.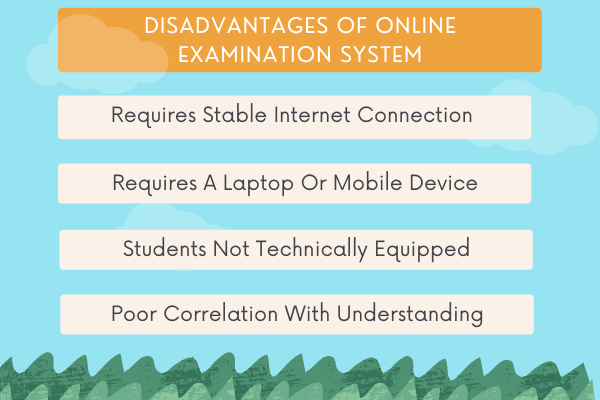 How To Demerits of Using Online Examination & Examination System
Shifting from a mode which the universities have been following for ages and to which students have been comfortable with a methodology that is comparatively new and demands additional requirements such as a stable internet connection, a device that is compatible with the online exam software as well as the technical know-how can be a little challenging.
Requires Stable Internet Connection
One of the most demotivating facts of an online exam can be the internet bandwidth, which it requires at the student's end to complete their exams. This can be problematic for the students who live in various parts of the country where there are either network issues or power cut issues.
2 Requires A Device For Online Examination
To give an exam online, the students must have a device, mobile phone, computer, or laptop. This requirement can make it impossible to opt for an online exam for those students who are not financially stable. In these challenging times when the wave of CoVID has forced the states to announce a lockdown, people are finding it difficult to even arrange for a three times meal for their family.
On the other hand, the absence of a device to attempt an exam acts as a hindrance for all students willing to uplift themselves but cannot because they do not have enough money to arrange for a device to attempt the same machine. The number of additional requirements such as a camera, microphone adds to their plight.
Checkout pesofts Support Devices For Online Examination
3. Poor Correlation With Understanding System
The time limit within which the students have to attempt the exam only enables them to assess their speed and not understand. Sadly, speed and performance are not correlated as students who finish the exam first compared to those who cannot attempt all the questions within a stipulated time limit do not mean that they are brilliant.
4. Hurdle For Students Not Technically Equipped
India is still a developing country, and the percentage of illiterates in our country is high. In light of this background, an online exam for getting admission into any college or further promotion into the next academic year can be a challenge. That's because the technical illiteracy of the students and their inability to understand how software for an online exam would function prevents them from coming forward and filling the examination form.
Frequently Asked Questions
Ans. ✔️ Online examination help students as well as administrative to conduct exam online with or without proctoring features available in exam conducting software.
Ans. ✔️ Universities can assess students online by using an online exam System. The software enables the examiner to create tests by inserting & uploading the type of questions that they want to range from MCQ's to complex scientific formulas and also set the time and day at which the exam would go live, the time within which the students have to complete their exam and whether the students have the chance of visiting the question again or not.
Ans. ✔️ Pesofts is the best online exam software provider agency. We at Pesofts, while developing our software for the online examination, keep in mind all the essential features that are of utmost importance to conduct a successful online exam.
The Last Word Conclusion
A careful analysis of the pros and cons of online exams leads us to conclude that the number of benefits this mode of assessment has to offer certainly acquires more weightage than the disadvantages. However, this would only be possible when the universities buy the right software by asking themselves five questions to keep in mind before purchasing an online exam software and always purchase the online exam software provided by Pesofts.
We have various packages at which our software is available, and the universities also have an option of getting the software customized as per their needs. We provide a 24*7 tech support service and allow our users to avail a free trial before purchasing our software.