What is The Video Lecture Recording Software

The introduction of technology has resulted in changes in the typical classroom. The reason for such change has been a low completion. It is also a couple with lower participation of the students where they are left to learn on their own with the feeling of isolation. To prevent this, there has been an invention of a new learning environment in the form of lecture capture process.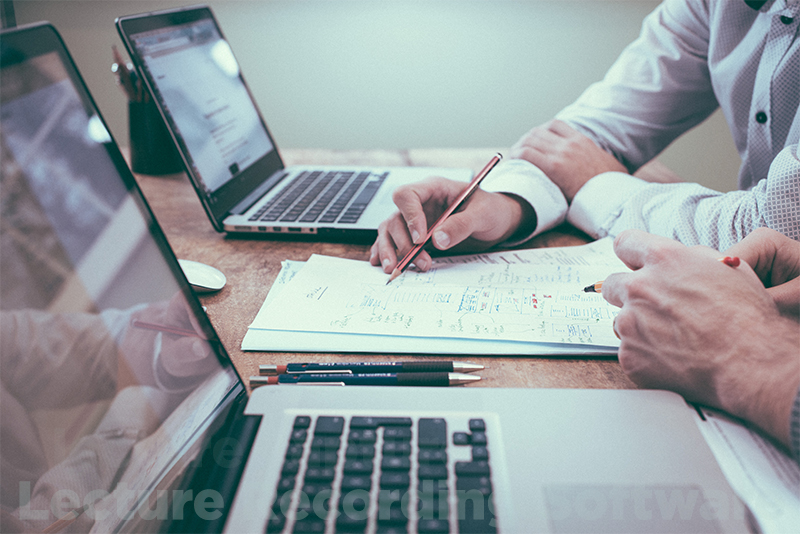 However, the increase in the usage of recording software has put the people into a dilemma as to what is this exactly. From this article, we have attempted to answer that query of yours. We have also tried to explain the features that an ideal video lecture capture software should consist of.
What is a Video Lecture Software and What Is Use of It.
A Video lecture software is a video conferencing tool. It allows the participants to interact with the instructors face facing irrespective of their location. This software provides a e-learning environment where there is live video, crystal clear audio, multiple interactive whiteboards. The markup and annotation tools allow the users to file as well as share documents and screen. The capturing software engages the participants to communicate via whiteboard, chat, polls, votes and other ways.
Top 7 Features Should Have In Video Lecture Capturing Software
1. It should have a Crystal Clear Audio:-
Video lecture recording software should have the functionality of an integrated audio conferencing. The presence of multiple speakers in it having a high-quality voice over help in promoting better communication between the learners as well as instructors.
2. It Should Enable You To Teach Live With High-Resolution Transmission
The presence of high-resolution transmission having echo-free audio results in imparting online training effectively. Some of the features that promote high resolution are online whiteboard, polling as well as live chat. The online whiteboard having feature-rich multi-tabbed helps in replicating the classroom experience.
Live chat aids in collaborating with learners. All of this promotes an integrated development environment where the computer programming learners code in real-time. The participant's role can be well defined with HQ resolution as well as a 5-way audio-video layout.
3. Ability to create your e-learning website
A video lecture software that promotes the teaching of online courses should enable the users to develop their e-learning website or portal within a minutes. They should get the ability to upload content in multiple formats, as well as many attendees. It should allow the users to upload as much content as they want to with unlimited storage to create different sections based on the built-in course structure.
Not only this, but they should also get the control to add a logo as well as brand color for getting customized while labeled learning portal. This smooth, intuitive, as well as a user-friendly interface, should give them the advantage of navigating quickly.
4. Facility To Test Learners
In a lecture capturing software, the instructors should get the facility for assessing the learners. Thus this lets the instructors create online tests in different formats, set rules as well as guidelines for customizing the criteria. By making different sets, randomizing MCQ options and assigning time limits makes the tests cheating proof. Not only this but this feature also permits the teachers to generate comprehensive test reports and scorecards for analyzing the performance.
5. Lets The Users Assess CourseAs Well As Learner's Performance
The feature of generating automated reports in virtual software enables the user to's measure class as well as course performance with attendance and course completion reports. These reports help the instructors to offer personalized learning by identifying weak students and taking remedial actions.
This enables them to make changes to the course content and teaching style that this directly results in getting faster ROI's. The reports are downloaded in CSV format that can be used for record-keeping.
6. Responsive To Various Devices
A classroom software sensitive towards Android as well as iOS devices enables the learners to access course content. Not only this, but they can also attend live classes directly from their smartphones and tablets. The participants get an opportunity to access the course content from any device. They even get notifications and messages of their course schedule. This gives them a chance to learn instantly on their mobile without investing in laptops and computers.
7. Available At Affordable Prices
One of the most crucial features of any technological invention is its ability to be available at throwaway prices. It should also have all the features that make it an ideal software capable of being used by any instructor efficiently. Cost-saving allows the users to invest the money in ways by which they can improve their methods for teaching.
Conclusion
This magical wand has thus given the online teachers a method to communicate with students in an effective as well as pedagogically sound manner on one on one or one to many bases.
The presence of all these abilities and features in an online classroom software allows the users to create the experience that they want — looking for a software that has all these features and that lets you perform all these functions? Don't worry.
We have a solution for you. We at pesofts offer an ideal software at affordable prices with which the instructors can impart online training quickly.
Frequently Asked Questions by Anyone.!
✔️ What is video lecture recording software?
A video lecture recording software is a software for recording software for a lecture, Live classes by teachers or mentors for the students.
✔️ How lecture recording system work?
You can buy it from another vendor or you can get it free from pesofts and start capturing video in a single click.
✔️ What are the benefits of an video lecture recording software?
Start classes within a minute, Safe of environment harming cutting of trees or more.
✔️ Are there any limitations to an online exam?
No.! There is no limitation for giving live lectures also stored content to the students at any time.