How Student Tracking Systems Help In Improving Student's Performance


Education and learning are usually called the passport to the future, as tomorrow comes from those that prepare for it. In this context, educational institutions must impart education and determine if the same is going in the right direction. Thus to ensure that education is fulfilling its purpose, using a student tracking system that helps in improving students' performance becomes of utmost importance.
The need of the hour for educational institutes is to roll their sleeves to deal with this new teaching mode in a manner where students' performance is enhanced and not hampered.
Learn More About The Pricing Of Pesofts Proctoring Software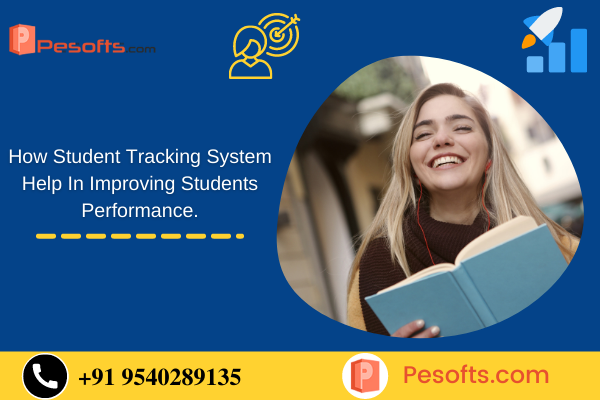 If you wonder how a student tracking system can help improve students' performance, this article is for you.
Online Student Tracking System: What Does It Mean?
Online student tracking system software is kind of a tool that enables educational institutions to avail services such as managing student attendance online, keeping track of uploading and sharing of assignments, imparting online classes, organizing online examinations as well as proctoring, and all the other activities that are necessary for keeping an eye on the student's acts even during virtual schooling. Coupled with the services, the software can be integrated with the web and mobile, thereby enabling the students to learn anytime and anywhere at their convenience.
Since now we know what a student tracking system means, let us understand how it aids in improving students' performance.
How Student Tracking Systems Help In Improving Student's Performance
The need to adopt new ways of learning and the emergence of software to cater to the same are playing an excellent role in providing a better experience to teachers and students. Student tracking software has helped institutes manage and keep an eye on every student's progress personally. Student tracking system helps in improving student's performance in the following ways: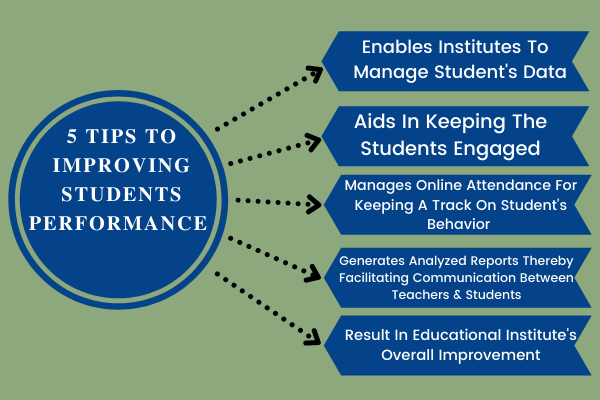 1. Enables Institutes To Manage Student's Data
In this time of virtual schooling, while teachers are teaching online with online classroom software, it becomes imperative for them to maintain the record of students as that's the only way to keep a check on the student's personal growth. To ensure this, they are busy with administrative work such as managing students' results, keeping track of their submissions, etc., which detracts them from focusing on the main thing for which they are hired.
In this scenario, online student tracking software enables them to manage the data so that teachers can solely focus on imparting lectures to the students. Right from the time when the parents of students inquire about admission to the time when the students finally pass out from the school, the software manages all the aspects wherein maintaining a database with regards to students is required.
This reduces the burden on teachers and gives them time to get accurate information on the weak subjects and personality traits of students. With the help of properly organized data, parents, wards, and teachers can focus on improving the vulnerable issues by devoting time to the same and not the subjects they have a stronghold.
2. Aids In Keeping The Students Engaged
In this era of online learning, students love using techniques involving technology, technological devices, and various tools while taking lectures. The availability of data because of online student tracking software, if used with the right approach, can go a long way in keeping the students engaged.
Teachers can also consider giving students badges for their progress, which motivates them to show a proactive role while studying. The data can compare academic progress and create a healthy competition to keep the learners engaged. The same would thus enable students to focus on themselves for performing better the next time, and with the teacher's help, they will be able to become better learners for the future. Teachers for this can also define the educational approach or education techniques based on competency, which would be the most suitable and works the best for different students
3. Manages Online Attendance For Keeping Track On Student's Behavior
Managing student attendance was easier in conventional classrooms than working online because teachers always knew that students were physically present in traditional classrooms. Students tend to leave the class in the middle of online classroom software, making it difficult for the online tutor to keep track. This online student tracking software's capability of managing online attendance systems eliminates all the inconveniences faced.
It produces students' daily, weekly, and monthly attendance reports. Integration of this software in the day-to-day functions of educational institutes empowers the faculty to keep a close eye on the students. It also enables them to check their class history with online-generated class attendance reports. With a few clicks, teachers can track students' behavior. If they find any irregularity or discrepancy in a student's behavior, they can always alert the parents.
4. Generates Analyzed Reports Thereby Facilitating Communication Between Teachers & Students
The analyzed reports generated by the online student tracking software are proof of the software's smartness, which can be used to measure the students' strengths and weaknesses in terms of academics.
When teachers learn about the reports, they can better view their performance and guide them accordingly. The student tracking system also enables teachers to quickly look at students' performance over the last few years. However, they are not bound to remember the entire performance of each and every student.
After they know about the same, they can easily communicate with the students more comfortably, positively improving the weak points: this continuous evaluation and feedback aid students in better learning.
5. Result In Educational Institute's Overall Improvement
The availability of data would result in an improvement in students' performances and of educational institutes. They would be better positioned to analyze students' performance and focus on implementing the changes with the same. The reduced burden on teachers for administrative work and more focus on the student's learning would improve students' performance, directly impacting the growth of educational institutes.
Learn Factors To Consider Before Buying An Online Proctoring Software
The Last Word
Educational institutes generate a significant amount of data that should always be used to extract insights that aid teachers and students.
It can happen with a student tracking system. With the various advantages such as allowing the educational institutes to use data for measuring student's progress, average grade points, performance across disciplined, and studying improvement over the period, an online tracking system can go a long way for improving students' performance.
It also eliminates the unnecessary workload that the teachers have to face and thereby helps them focus only on the learning aspect of the students for their growth.