Best Ways To Make Online Workplace Engaging In 2023



Coronavirus has changed the way of working. From joint meetings & office parties, the traditional workplace setup has been replaced by working on couches due to work from home. Although it is being observed that most of the organizations are adapting well to this new shift to continue with this trend, in the long run, businesses are facing new challenges to make their online workplace engaging.
With the advent of virtual classroom platforms, it is possible to create excitement, energy & connection amongst your employees, even if available through remote options. All it takes is a bit of creativity coupled with innovative thinking to get the work done.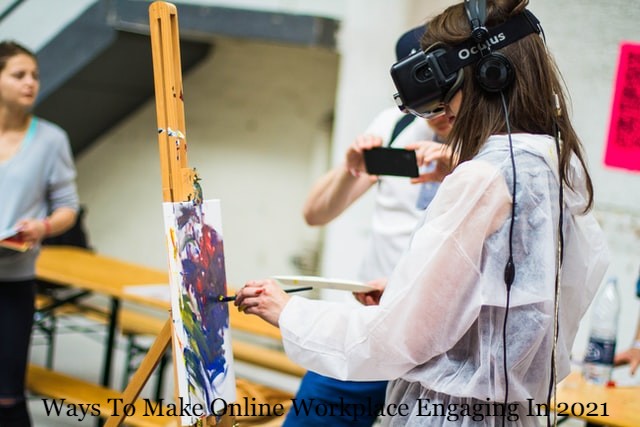 In This article, in detail, deals with some ways with which you can make your online workplace engaging in 2023.
Ways To Make Online Workplace Engaging in 2023
Plan Virtual Team Activities: In this virtual world, the fact that the newly hired employees get to know & interact with their co-workers in person is impossible. Therefore, to ensure that your employees create a bond amongst them, you can plan virtual team activities on virtual classroom software, which allows them to communicate with each other & break the ice easily.
Add Exciting Opportunities: Every employee working from home is aware of the responsibilities to be undertaken by him/her daily & fulfilling them every day can often be monotonous. Therefore to break this monotony, you can delegate exciting opportunities amongst your employees, such as messaging every employee that he/she should not forget to smile at least once in the entire day. This will bring a smile to every employee's face and create bonds between co-workers.
Host Activities That Are Not Work-Related: Organizations should make it a point to host activities such as trivia nights that are not work-related to boost employee's morale & keep them close through the best virtual classroom software. These types of meetings should be scheduled consistently so that the employees look forward to them.
Schedule Meetings Where Employees Can Talk About Their Personal Lives: Organizations should conduct virtual meetings where they can talk about their lives. In these challenging times doing this activity is most important because research shows that Coronavirus has had a massive impact on almost every person's mental health.
Adopting these ways would make your online workplace engaging. This helps to make your remote workplace more exciting and builds a culture & sense of community that needs the hour. You've found ways to interact & communicate with all your employees & give them a sense of belonging, but the question is how you will make that possible with the present software you are using.
Don't worry. Continue reading.
You obviously might be using an online classroom platform for conducting team calls, but if you're planning to switch it, here are ten essential points that you should keep in your mind before opting for another software.
Essential Points To Consider When Switching Software For Online Classroom
24*7 Customer Support: There is a possibility that the unavailability of prompt customer support might be a reason for you to change your software for online exams. Thus one factor that should be kept in mind before switching is providing 24*7 customer support by the software provider. It would be best to opt for that software where all the glitches you face are resolved within the stipulated time on a priority basis. Not resolving glitches can be a significant setback for your business in this new virtual world.
Budget-Friendly & Lower Maintenance Charges: We all know how the unexpected advent of Coronavirus has impacted our spending capacity & amidst its advent, it's crucial to minimize expenditure to survive in the long run. Therefore while opting for a better online examination system, you should look for that software that provides you with all the necessary basic features at prices that suit your pocket. The maintenance charges that the software providers ask for can also contribute to increasing your expenditure. Thus, it is imperative to look for that software to pay low maintenance charges & get the best quality work.
User Friendly: Not all your employees need to be technology-friendly & are well versed with using software for an online teaching. However, this makes it essential for all of them to be comfortable in using the same since interaction through online teaching software is the need of the hour. User-friendliness thus becomes another point to be kept in mind while looking for better software.
Responsiveness: It is not common for all your employees to have all the devices when they work from home. Therefore, the responsiveness of online lecture becomes another critical criterion that should be kept in mind while looking for better software. It would be best to look for that software capable of working on all the devices ranging from mobile to laptop to computer to iPads & on both operating systems (MAC & iOS).
Option Of Screen Sharing: CoVID has only changed the mode of working, but how they present the work remains the same. Since PowerPoint Presentations are still used, screen sharing in any software for online classroom becomes essential. Thus, while looking for software, one thing that you should always look for is the fact that the software gives your employee an option to share their screen as only because of this option it would be possible for all your other employees to be on the same page while one of your employees is presenting his PowerPoint presentation.
Presence Of A Chat Box: In an online meeting, a chat box is of utmost importance. This gives an option for all the attendees to raise their queries without disturbing the person giving a presentation or addressing something essential. Therefore, the software provides for a chat box feature is of utmost consideration while looking for better online and offline computer based test software.
Secure Software: Software for an online exams in this virtual world has enabled two parties situated in different parts of the world to enter into a contract or a business transaction involving a considerable amount of money. But while this transaction is in process, one thing that the parties expect is privacy & security of the fact that none else is a party to the meeting without their knowledge. Thus, it would help if you looked into what the software for online classroom providers has in store for your security. It is of utmost importance for the software to be encrypted with a secure socket layer certificate to ensure its security.
Free Trial: It is pretty much apparent that you would want to opt for a free trial when you are switching your software to ensure that the software meets your expectations & justifies the fact of change. Therefore, while switching, one question that you should ask should be to access the free virtual classroom software before making the final purchase.
Scalable: Scalability plays a significant role when you look for better software because there would be a time when all your employees become a part of the online meeting & at that moment, it would be of utmost importance for the software to function smoothly without any glitch. Thus, this is another factor that should be taken care of while searching for better software.
Customizable: In the hard times when everyone is looking for a sense of belongingness & empathy, the employees feel what they are looking for while working online & participating in a virtual meet is essential. Therefore, your online teaching software should be customized as per the employees' needs in such a manner that they feel connected. All of this is only possible when you look for software that can be customized by including all those features essential for the functioning of your business at lower rates.
The Last WordWith the perfect software for the online classroom, any organization can function in the long run without calling their employees physically in the office. But to ensure that this happens, you need to select the best software by keeping in mind all the points discussed above.
You are looking for software that caters to all the points you should consider before switching software for an online classroom? You've landed on the right page. We at Pesofts are there to help you ensure your business continuity by providing the best software for an online classroom.
Conclusion
Therefore the availability of various options to even conduct exams makes it easy to assess students irrespective of their location. All the exam conducting agencies & educational institutions have to opt for Pesofts software for online exams available at affordable prices with attractive features to access this option.